The community remembers Richard Beards
04/08/2014 03:00PM ● By Acl
Mary Lou Myers reads a poem she wrote about the late Richard Beards.
About 200 people came to the Oxford Arts Alliance on the afternoon of April 6 to remember Richard Beards, a longtime educator, owner of the Bookplace shop in Oxford, and a tireless supporter of the arts, who passed away in December.
The visitors included artists, community members and friends. Mary Lou Myers read a poem she wrote about Beards.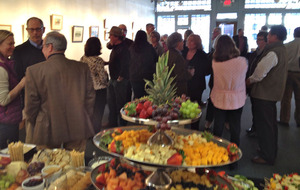 "We continue to miss Richard every day," said Christine Grove of the Arts Alliance, "but his legacy in arts and education will continue through the Richard Beards Scholarship of the Oxford Arts Alliance. These scholarships are offered currently to Oxford Area High School seniors pursuing their education in music and the arts.
"Richard was an educator and advocate for the arts," Grove added. "I think we would be pleased that the Arts Association has renamed these scholarships in his memory."
Information on the Richard Beards Scholarship Fund is available at www.OxfordArt.org