Unionville lacrosse team off to a strong start under new coach
04/02/2014 11:00AM ● By Acl
Winslow Davis scored five goals for the Indians.
By Steven Hoffman
Staff Writer
For new Unionville coach Noel Breger, every play of a game holds the potential to be a teachable moment—even if his team is turning in an impressive performance, as it did in a 20-3 win over Upper Darby last Saturday. That's why Breger anxiously paced the sideline during a rainy, windswept game, looking for every opportunity to help his players learn how to function as a cohesive unit in a new system.
"We have a lot of young players," Breger explained. "We need to make sure that they understand what we're trying to teach them."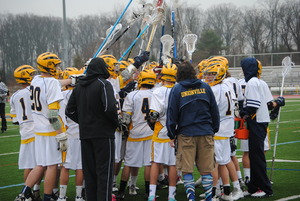 The season is still very young, but it seems as if the Indians players are quickly learning how to meet the expectations of their first-year coach.
Breger and his players were in constant communication as the Indians built a 10-0 lead and then reeled off the final 10 goals in a remarkably balanced game that saw Unionville play as well on defense as it did on offense.
The scoring attack was effective right from the start against Upper Darby. Jimmy Nowoswiat netted the first goal of the game less than two minutes in, and Danny Donovan quickly followed with a goal of his own. After Unionville's aggressive defense forced Upper Darby into a turnover, Donovan fired another shot past the goalkeeper to make it a 3-0 lead.
Unionville goalkeeper Ryan Hartley made a nice save to protect that lead, and then the offense went back on the attack as the Indians pushed the ball straight up the field to set up a goal by Alex Wilkins, making it 4-0.
Winslow Davis and Dominic DiBiaggio also added goals, pushing the lead to 6-0.
Nowoswiat made a nice pass to set up another goal by Davis. Because of Unionville's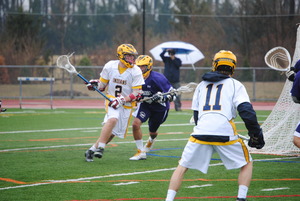 strong offensive attack, Upper Darby rarely had the chance to mount any offense. One scoring opportunity came late in the second quarter, but Hartley was there to make the save.
Donovan, Davis, and Nowoswiat each scored again to push the lead to 10-0. The offense was firing on all cylinders, and the defense was aggressive to the ball, preventing Upper Darby from gaining any momentum.
"They all played well," Breger said. "Our philosophy is that everybody on offense and defense should be a threat. All of our players have the green light to go."
At halftime, the Unionville coach warned against soft play and implored his players to continue to attack on offense and defense. He needn't have worried.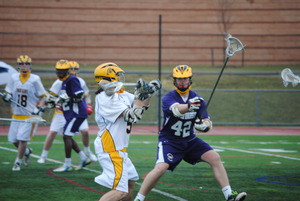 Upper Darby enjoyed about two minutes of success—netting three goals, one by Ryan Simpson and two by Joseph Simpson—but then Unionville was back in control, pressuring on defense and aggressively pushing forward on offense. Peter Langdon evaded Upper Darby defenders to move the ball down the field, setting up another score by Donovan. Unionville's confidence swelled after this score, and the Indians went on to score five more times in the next four minutes. Brent Immediato joined in on the scoring, Davis and Nowoswiat added one more goal, and Donovan netted two more scores. It was 16-3 leading into the fourth quarter.
Despite the large lead, Unionville continued to apply the pressure in the fourth quarter, tacking on four more goals—two by Andrew Rosenberg and one apiece by Davis and Nowoswiat, to finish up the 20-3 lead.
Donovan, who was celebrating his birthday, scored six goals during the game, while Davis had five. Nowoswiat contributed four.
Breger, who previously coached at Archmere Academy, said that his team's ability to communicate helped spur the scoring. One of his goals is to always accentuate the positive and get rid of any negativity.
Another goal is to build a team that is filled with contributors—he wants production from starters and players coming off the bench.
"There's a Sixth Man Award in basketball. I want to have the award for having the best bench," he explained.
The victory improved Unionville's record to 2-1 on the season. Breger said that one of the reasons that he wanted to take the Unionville job was the challenge of coaching in the always tough Ches-Mont League. His team will be put to the test on April 3, when the Indians travel to Avon Grove for a game against one of the league's best teams. The game begins at 7 p.m.