Reese inspires Unionville to a 13-7 win
03/26/2014 02:32PM ● By Acl
In honor of their teammate Tucker Reese's late mother Cathy, the Unionville team dressed in the ceremonial colors of breast cancer awareness.
By Richard L. Gaw
Staff Writer
Tucker Reese's mother passed away from breast cancer last summer. On March 24, the junior member of the Unionville varsity baseball team took the mound and pitched in his mother's memory. To top it off, he was named the game's winning pitcher in the Indians'13-7 victory over crosstown rival Kennett, in the Ches-Mont opener for both teams.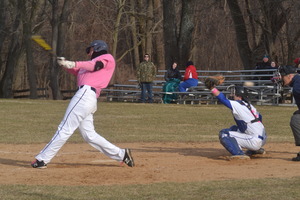 In honor of Reese's mother Cathy, a Wilmington attorney who died on July 18, 2013 from complications related to breast cancer, both clubs donned shades of pink – the color of breast cancer awareness, and Tucker was joined by his father Rob, in tossing out the first ball. Nowhere else could any shade of spring be found at Unionville's home field, however, as both teams battled through a wintery cold that opened with Reese tossing no-hit ball for the first two innings.
Kennett got off to a quick lead, when two errors by Unionville shortstop Nick Ward led to two unearned runs in the top of the first inning. The Indians, coming off an opening loss to Garnet Valley on March 21, scored four times on three walks by Kennett starter Joe Pannell and a sharp single by Drew Jarmuz, who had two hits in the game. In the third, four consecutive walks issued by Kennett reliever Joe Zirolli eventually led to runs by Andrew Jones, Chris Koehler, Eric Takoshian and Kevin Welch.
In the fourth, Kennett mounted its strongest inning of the afternoon, scoring three times on five consecutive hits, including a double by Dave Villafane that plated two runs to pull the Blue Demons within two runs.
Kennett's comeback was short-lived however, as Unionville piled on two more runs in its half of the fourth, and two more in the sixth.
After handing the ball to reliever Ryan Barrett in the third – who surrendered five runs – Unionville head coach Mike Magee got solid relief from pitchers Joey Fulton and Alex Pechin, who each held the Blue Demons scoreless.
Unionville was led by designated hitter Dan Garver with three hits and four RBI, while Zirolli and Ian Slicer had two hits apiece for Kennett.
Kennett will face Unionville on their home field on April 11, while the Indians travel to Downingtown on March 26.