Giving back, for the love of Lucy
03/25/2014 04:50PM ● By Acl
The Marlett family poses with a photo of Lucy, who passed away on Feb. 8, and the toys donated in her honor.
By John Chambless
Staff Writer
Lucy Marlett got hundreds of birthday presents on March 24. Neatly stacked in the auditorium of the Avon Grove Intermediate School, they were a way of celebrating Lucy's brief life, and wrapping her family in a consoling embrace.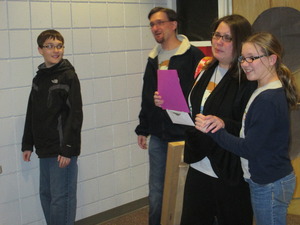 Lucy passed away on Feb. 8 after battling mitochondrial disease for her entire life. She didn't quite make it to her sixth birthday. Her older siblings -- Jack, Megan and Sophie -- attend Avon Grove schools, so to express their condolences, the students, staff and parents contributed to a toy drive that will put hundreds of new toys into the hands of sick children at A.I. duPont Hospital, where Lucy spent much of her life.
Organized through the Avon Grove School District PTA/PTOs, three schools contributed to the effort, collecting donations for two weeks. The results were kept secret from Lucy's parents, Drew and Nicole, until Monday afternoon, when they came to see the small mountain of toys, dolls, games, and activity books. They will be donated to the Child Life Department at the hospital, which gives new toys to children and their families, to help pass the time during the long days of treatment and recovery.
When the door was opened for Nicole and Drew on Monday, Nicole immediately teared up as her daughter, Megan, held her arm. "Oh, wow," she whispered as she walked toward the toys, most of which were in girly pink packaging.
As Jack, Megan and Sophie darted around the tables, pointing out the carton overflowing with crayons, the dozens of Uno card sets, stacks of activity books and Play-Doh, and crates full of Hot Wheels cars, Nicole wiped away tears.
"We knew we wanted to pay back two organizations," she said. "One was the United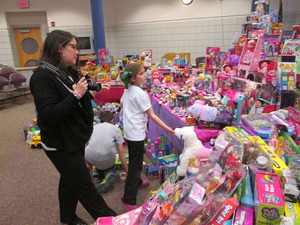 Mitochondrial Disease Foundation, so when she passed, we made a joint research fund for them. The other was to give back to the place that has given us so much, the A.I. duPont Hospital, which we affectionately refer to as our home away from home.
"I knew that there would be a lot of people who wanted to do something," Nicole continued, "so we felt like this was a great way for the little people in her life to do something in her honor that's really tangible. We heard lots of stories from families who said that they took their kids to buy a present for Lucy's birthday to give back to the hospital. One mom said this was the first time she took her kids shopping when they didn't ask for something for themselves."
While Sophie darted around the stacks of toys, she repeatedly squeezed a stuffed bunny that played a snippet of Lucy shouting, "I LOVE you, SOPHIE!" Nicole smiled and said that each of Lucy's siblings got a special message in their own stuffed toys, so they could always have a little bit of Lucy with them.
The family took thousands and thousands of photos of Lucy, gave her experiences of a family trip to the beach, amusement parks, and Disney World, even though it meant putting a mask on Lucy to keep away infections, and taking all of her medical equipment everywhere they went.
Nicole said the family's last trip to Disney World was a spur-of-the-moment adventure that was put together on a week's notice at Thanksgiving. During the trip, "I think Drew and I slept maybe three hours a night," Nicole said, glancing toward her husband. "We didn't take any nurses, we did everything ourselves, and she needed 24-hour-a-day care. Her last good day was Nov. 22, at Disney."
After that, Lucy's precarious health took a downturn. The family celebrated her March 12 birthday early, on Feb. 6, "because the middle of March feels too far away," Nicole wrote in the family's blog (www.allthemarletts.blogspot.com ). The blog details the family's joys, sorrows, faith and anguish as Lucy alternately rallied to the point of being a bright-eyed, enthusiastic little sister, or lapsed into a haze of pain medications. In one blog entry, Nicole shares the speech she made at Lucy's memorial service, which was held on Feb. 22 at their church, Willowdale Chapel.
"Lucy was exceptional, not only medically, but also in the way she lived her life," Nicole wrote. "How do you fit a lifetime's worth of memories into 5 years, 10 months and 27 days? We split seconds, and made every half-second count.
"Her diagnosis, mitochondrial disease -- a progressive degenerative disease in which the body does not convert food and oxygen into energy correctly, resulting in multi-system organ dysfunction -- is an incurable and terminal disease. Lucy never understood what that meant; she never knew what it was like to feel any different. If you asked her she was always 'good' and 'not tired!' In spite all of her circumstances she lived life!"
On Monday, as Drew snapped photographs of the donated toys, Nicole said that the toy drive began when Lori Wickline, the PTA president at Avon Grove Intermediate, called them to propose the idea. "We were honored," Nicole said. "I thought that even if nothing happened from this, maybe one toy got donated, our kids would be able to share their sister's story with their classmates. When Jack returned back to middle school, the first day after Lucy's service, not too many people acknowledged it. They didn't know what to say. There are no words. But when the toy collection was announced, all these people talked to him about it, how sorry they were for his loss, and how they were looking forward to being able to do something.
"For us, as parents, that is the best gift of all," Nicole said. "That our kids could acknowledge the enormity of their sister's life and share it with their friends."
--
A benefit concert will be held on May 3 at 6:30 p.m. at the Willowdale Chapel in Kennett Square. The Marlett family has been studying music at the Hockessin Music School since 2002, so the school and the Wind Symphony of Southern New Jersey will perform some of Lucy's favorites -- music from "Harry Potter," "The Lion King," "Pirates of the Caribbean," and more -- for the benefit of a fund that is seeking a cure for mitochondrial disease. Tickets are $10 ($25 for families). For reservations, e-mail [email protected].