New homes and facilities at Ware Presbyterian Village use cutting-edge energy source
03/19/2014 04:33PM ● By Acl
The Pavilion and Vista Ridge apartments opened on Feb. 17, and residents started moving in the next day.
By John Chambless
Staff Writer
You can see the years of planning that went into the Vista Ridge and Pavilion buildings at Ware Presbyterian Village as soon as you step through the front door.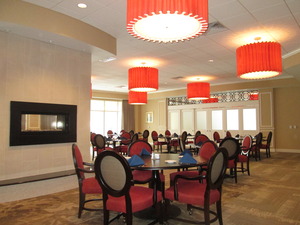 The Pavilion, which opened on Feb. 17, is the new centerpiece of the Oxford retirement community, replacing the historic mansion that formely housed many of the group activities for residents. During a tour this week, sales director Jane Erikson showed off a facility that goes well beyond what the mansion offered. 
The Pavilion is attached to 31 apartments called Vista Ridge, so there's an elegant dining room on the main floor of the Pavilion offering restaurant-style table service, and an outdoor deck that overlooks the property's trees and wetlands below. There's also a smaller bistro offering "pretty much everything from hot dogs to filet mignon," Erikson said. "And we have a liquor license."
There's a smaller private dining room that can be booked for family parties or events, and a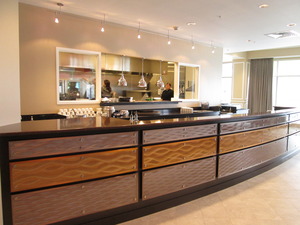 huge auditorium space on the lower level that will be used for entertainment programs, banquets, movies or other events. An elevator is linked to the kitchen upstairs so that food can be delivered to the lower level. The space can be rented by outside community groups as well, Erikson said. 
Every entrance to the apartments is controlled by a fob given to residents that is scanned at the doors. Erikson said 19 of the independent living apartments are sold. The apartments are one-bedroom or two-bedroom units with several floor plans. Every apartment has its own designated indoor parking space on the lower level. 
There is a mail room in the lobby of Vista Ridge, and each apartment has its own mailbox. The apartments are large and well designed, with doorways that can allow wheelchairs if necessary. Each one has a balcony.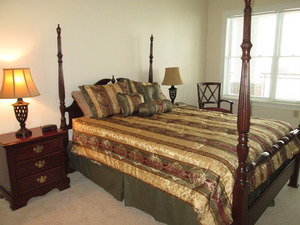 Residents bring their own furnishings, but everything else is taken care of, Erikson said. There's an on-site emergency call system that's always available, and residents can get a full spectrum of healthcare services and wellness programs. All maintenance is included. Anyone age 55 or older is eligible.
While the gleaming hallways and modern, airy public spaces are immediately impressive, what's unseen is just as important. The Vista Ridge building is heated and cooled with a geothermal system that's on the cutting edge of building technology.
Rodney Fenstermacher, the corporate director of construction for Presbyterian Senior Living, has been involved with the Vista Ridge building since the planning stages, three years ago. 
"We, as a corporation, have been moving many of our projects toward geothermal," he said during a phone interview this week. "Certainly it lowers the cost of energy."
While residents don't see any difference in how the system operates, there are 
110 wells, drilled to a depth of 400 feet, under Vista Ridge and the Pavilion.
"Liquid is circulated to about 400 feet down, where the constant temperature is 55 degrees,"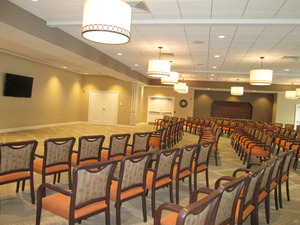 Fenstermacher said. "In the summer, that cooler water helps cool the air in the buildings to a more comfortable temperature. And then, over the winter, we take the heat out of the ground at 55 degrees and help warm the air. So in summer, we use the coolest cool and in winter we use the warmest warmth."
The geothermal technology "has been around for quite a while," he said, "But as with anything else, it takes some time until it's developed and the equipment becomes more economical. The first-time costs are a little higher, but what you save in energy costs over the years more than makes up for it."
In a project like the one at Ware Presbyterian Village, "the upfront costs can add $100,000 to $200,000, but on an $18 million project, that's a relatively small percentage," Fenstermacher said. "These days, you hear about $400 electric bills. Well, I've never gotten a bill from mother nature, and if I did, it would stay the same."
With the Vista Ridge apartments selling well, there is space to expand, Fenstermacher said. "When we've sold out the first building and there's a waiting list, we can build another one next door," he said. "We're prepared to build a second apartment building."
For more information on Ware Presbyterian Village, visit www.warepresbyterian.org.