Glassblower imagines his barn as a place of artistic possibility
03/19/2014 04:25PM ● By Acl
Von Koch envisions that the barn's former stable could be converted into a restaurant.
By Richard L. Gaw
Staff Writer
Throughout southern Chester County, the joke among many locals is that if you threw a rock, it would probably hit a sculptor, a weaver, a writer, a photographer, a filmmaker, a painter or an artisan.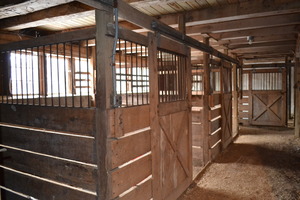 And yet, when it comes to having a central meeting place to showcase their work and come together as a community, these creative types are a virtually homeless population. Now, there's a German-born glassblower who wants to convert his nine-acre property in Toughkenamon into a cultural haven, and make it a place that all of these creative people will eventually be able to call home.
Last spring, Thomas Von Koch, an internationally known maker of fine glass structures and the owner of the Landenberg-based WGK Glass Art, Inc., purchased the former home of a duPont family member on Newark Road in Toughkenamon, just north of the New Garden Air Field. The property features a 1700s-era stone home, complete with several fireplaces, and an older garage once used by the duPont family as a place to store their vehicles. That garage became Von Koch's studio.
Perhaps the most dominant feature on the property is the airy, two-story barn with a towering loft area, and what used to a a horse stable below.
"I was looking for a place for my own studio, and when I saw the property, I thought,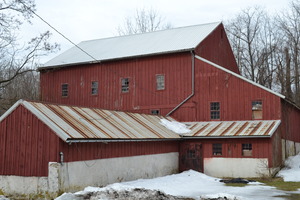 'Establishing an artist's space in the barn will generate traffic to my business,'" said Von Koch, who first noticed the home while driving to art shows in Philadelphia.  "I saw the barn and thought it would be a great place for a theater. I saw the horse stalls and I envisioned a restaurant. I saw the rock walls outside the barn and thought it could become a nice beer garden. I thought that people who are interested in glass art will also be interested in culture."
He purchased the property in March of last year, and moved in last July.  
Von Koch has already shared his goal with the New Garden Board of Supervisors -- who overwhelmingly approved his ideas -- and he's working with the township on compliance with all zoning ordinances. The barn has great bones; it was largely rebuilt after a 1989 tornado severely damaged it, in the same way as it may have originally looked in the 1700s. He has walked through the barn with engineers, all of whom were impressed with the structure of the building. 
Von Koch imagines the barn being developed in three stages. The beer garden would come first, which he said would be the easiest and least expensive. Finding an interested party to convert and operate the restaurant would be next, and finally, he would secure funding to open a cultural center and performance space on the barn's upper floor. 
He estimates that the restoration of the barn -- including the installation of modern necessities, making it code compliant, and converting to a performance space, beer garden, gallery and restaurant -- would cost in the neighborhood of $2 million. He's looking to collaborate with entrepreneurs and local corporations who would be willing to link their name with the burgeoning cultural scene in southern Chester County.
"I'm only a glassblower, but I'm looking to collaborate with chefs, entrepreneurs and dreamers, as well as young people, in order to make this a reality," he said. 
Once developed, the property could become a mecca for artists and culturally minded individuals and groups, Von Koch said, adding that he could see its impact reaching as far as Philadelphia. Generally, he imagines the space used by both individuals and groups; specifically, he'd like to provide opportunities for young artists as well as the local Hispanic population. 
"The older you get, the more you think your time here is limited," Von Koch said. "I think you have a certain purpose here on earth, and there are a very few lucky people who get to create something in their lifetime which surpasses them. I want to create something that surpasses itself. Establishing a cultural center here would be the greatest thing for me to achieve.  That will be my life after my death."
If you are a local artist – or if you are interested in making a financial contribution to the construction of the performance space, gallery, beer garden and restaurant, contact Thomas Von Koch at 610-268-0600, or e-mail [email protected].