Strong OT pushes Oxford to state playoffs
03/05/2014 03:25PM ● By Acl
Oxford's Jordan Logan makes a ball-saving pass during the Hornets' 70-55 victory over Haverford on March 1.
By Richard L. Gaw
Staff Writer
With ten seconds left and down 52-50 in the District 1 Class AAAA tournament game against Haverford last Friday night, Oxford guard Jordan Logan held the ball on the right side and glanced at the feet of his defender, Jack Donaghy. Such small details of basketball were in order; after all, the senior guard was playing his last home game in his four-year career, and the game – and the destiny of his team – was in his hands.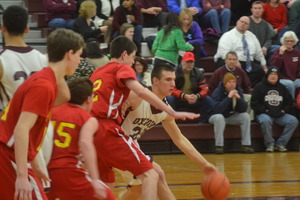 With six seconds left, Logan went by Donaghy and sank a ten-foot floater in the lane to tie the game and send Oxford into an overtime period where they dominated, allowing the Hornets to defeat Haverford, 70-55 and qualify them for the first round of the PIAA tournament, beginning March 8 at Archbishop Carroll High School in Wayne, with the tip-off at 3:30 p.m..
"When I first got the ball, I thought, 'Do I shoot a three and win it?" But then I saw him (Donaghy) on his heels and I decided to go by him, and when I got in the lane I was thinking maybe right hand, maybe left hand, but they all backed up so I knew I had to do a floater and I just hope it didn't bounce off the back of the rim and bounce out on me."
The tenor of the game up to that point had been largely three quarters of shot-for-shot tenacity, with both teams fighting for a berth in the PIAA state tournament. However, as the fourth quarter began with the home team up by four, the offensive machine that had defined the Hornets' season – Musty Mahmud, Miles Clarke and Logan – was shut down, and the visiting Fords were able to launch two, sometimes three shots per possession. With 4:54 left in the quarter, a beautiful pass from Tom Leibig to Mike O'Halloran gave Haverford the lead and just the momentum they needed to escape from Oxford with the win.
After Oxford head coach Sean Harvey called time-out, it seemed as if a rejuvenated Hornet squad emerged from their early fourth-quarter funk. With four minutes left, Dylan Dunn found Miles Clarke for a layup, cutting the sudden Haverford lead to 49-46. A minute later, a layup by Mahmud maintained the Fords' 3-point lead, 51-48. Ryan Hubley, who had scored 25 points to lead his team to victory on Feb. 25 against Methacton, had been held to just two points in the game, but with 1:43 left, he was fouled and proceeded to sink two free-throws to cut Haverford's lead to one point.
With 15 second left in the game, Donaghy was fouled by Logan and made one of two free-throws to give his club a two point lead, setting up Logan's game-tying basket.
With whatever interior fortitude they mustered in order to propel the game into overtime, Oxford carried it with them throughout a dominant overtime, where they outscored Haverford, 18-3, highlighted by two crisp breakway passes to Clarke and Hubley, whose slam dunk with less than two minutes remaining gave Oxford a commanding 62-54 lead.
"I thought our intensity was much better overall (in the overtime period)," Harvey said. "I thought we were locked in with each other. We have played a lot of meaningful games in the last month, and I think they had tired legs and were mentally fatigued, and it was tough to push through it. I think they got the energy boost in overtime when Jordan made that shot to send it into overtime."
"We are a team who plays with emotion, and we play a lot better when we get going," Logan said. "I thought throughout the game we kind of played emotionless, and once we finally started going in the late fourth quarter, it just kept rolling. We got our fans involved, and we started playing our game."
Evenly matched throughout a game that featured a number of three-pointers (three in total by Oxford's Shane Quigley) and fast-breaks, the difference between winning and losing for Oxford was impacted most by their performance on the foul line, where they went 11 for 14, including five-for-five for Mahmud and five-for-six for Hubley.
"I've told them they have to make themselves good free throw shooters in the off-season," Harvey said. "We'll put them in free-throw situations after running a lot of hard drills, as it simulates them being tired. They really did make themselves into good free-throw shooters."
Logan's 15 points led the way for Oxford, while Clarke, Mahmud and Hubley scored 14, 11 and 11 points, respectively. For Haverford, Chris Lyons and Jim Roe scored 9 points each.
This Saturday, Oxford will face Roman Catholic, ranked No. 4 in the state, who finished in a tie for first place in the Philadelphia Catholic Basketball standings with a 15-1 record, and a 21-4 overall record.