Beer draws a crowd to Kennett Square
02/26/2014 02:06PM ● By Acl
Just over 1,000 people paid to attend Winterfest, selling out the event for the second year in a row.
By John Chambless
Staff Writer
After a winter in which pretty much every event in our area has been postponed due to ice and snow, the second annual Kennett Winterfest was blessed with spring-like temperatures on Feb. 22.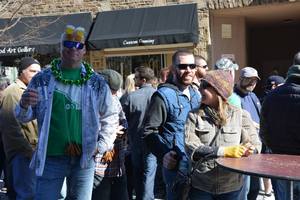 The event sold out in early February, with beer fans buying tickets online for the festival of food and brews that's held under tents in downtown Kennett Square. Modeled on the borough's equally popular Brewfest that's held in October, Winterfest brought together more than 25 craft breweries and just over 1,000 thirsty patrons.
"We were nervous about the weather," said Mary Hutchins of Historic Kennett Square, which puts on the Winterfest. "It's always a chance we take, but we couldn't have asked for a better day. It was just beautiful."
Hearty food was served by The Country Butcher, and there were freshly shucked oysters served by George & Sons, which is based in the Market at Liberty Place in Kennett Square.
For $65, patrons could sample beers from top craft brewers such as Twin Lakes, Evolution,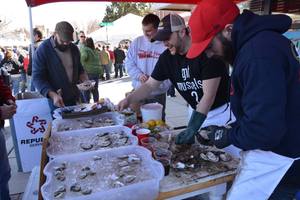 Yards, Victory, Great Lakes Brewing and Dock Street, along with some breweries which might not be as familiar to some people -- Round Guys, Evil Genius, Carton Brewing, St. Boniface and Stillwater Artisanal Ales among them.
For brewers, the event is a chance to get their products in front of beer fans, and for patrons, it's a chance to sample brews they might otherwise never run across. While the sellout crowd for the past two years is an indication of high demand, Hutchins said there are no plans to expand the one-afternoon event.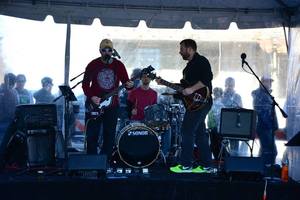 "It works out fine the way it is," she said. "There's always some thought about adding some things to it to make more of a downtown event, maybe adding some retail events, but we think the Winterfest model works fine the way it is."
The event, which raised about $25,000, benefits Historic Kennett Square's marketing budget. "That includes anything we do to market the town," Hutchins said. "Advertising, brochures, that sort of thing."
At the end of the event, at 4 p.m., the sun was still out, and some cases of cabin fever may have been cured.
"Everybody left happy," Hutchins said.