Running to help kids
02/26/2014 01:26PM ● By Acl
Nikolas in Antarctica on Jan. 26, 2014.
By John Chambless
Staff Writer
Just after 8:30 in the morning last Friday, Nikolas Toocheck had just finished running a few laps around the parking lot at Hillendale Elementary School and was ready to start his school day.
For 10-year-old Toocheck, running is as natural as helping others. The fifth-grader has grown up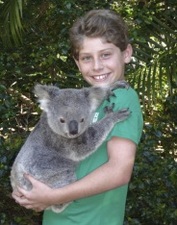 in a family that believes in giving back. His grandfather, Richard Sanford, is an entrepreneur and philanthropist who founded Operation Warm 15 years ago in Kennett Square to provide coats for children who couldn't afford to buy one.
When he was 6 years, old, Nikolas said, "I went to my first coat distribution and I handed out coats to some kids. It was really cool. It's not just a coat to them, because sometimes they haven't gotten a new thing in their whole life. A new coat is something more."
Initially, Operation Warm raised funds to purchase coats for distribution locally. Now, the foundation contracts to have the coats custom manufactured in America, and they are distributed nationwide through philanthropic organizations, local firefighters and other outreach centers.
Growing up in a family where giving was a way of life has merged with a love of running. Nikolas' father, Dan, is a runner and a member of the Air Force Reserves, flying regularly to impoverished areas on medical charity missions.
Nikolas smiled when saying, "He did marathons, and I kind of wanted to join marathons because of that. He got me started with running."
Two years ago, father and son were driving back from a half-marathon in Lancaster when Nikolas, in the back seat, started thinking about doing more.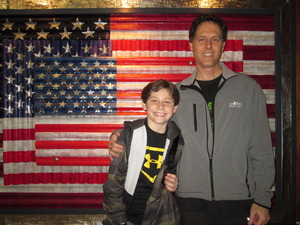 "We had done the Garden Spot Half-Marathon in Lancaster," Dan said. "He beat me, by the way. We were driving home and he was like, 'Wow, now that I've done a half-marathon, I probably could do a full marathon.' He had talked about doing this race in the Himalayas and said that if he did one there and here, he would have done marathons on two continents. Wouldn't it be great if he could do them all?"
"I was just just thinking about doing something that I love, running, and raising money at the same time," Nikolas added. "I thought it would be really cool."
The Toochecks weren't sure there were marathons that would accept a runner as young as Nikolas, so they started checking online. In most of his races, he is the shortest one in the pack.
"We did the Philadelphia running weekend in November. There were 37,000 people signed up," Dan said, "and he was the youngest person."
At his first marathon in Delaware, "The race director gave me bib number one," Nikolas said.
"He ran the Icicle Run in Wilmington in January, and he set the world record for his age group," Dan said. Nikolas just smiled and shrugged.
Wherever he goes, the openhearted nature of Operation Warm, and Nikolas' personal poise, go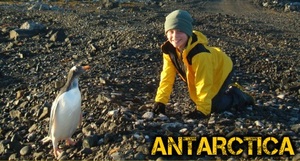 a long way. He has raised more than $20,000 so far -- enough to buy coats for 1,000 children. Some money comes from friends and family members, some comes from online donations, and some comes from people who meet him and just want to give.
"When he first got his Operation Warm T-shirts made, we went out to Pittsburgh to run this 5K and strangers would be giving him a $20 bill and saying, 'Here's a donation for your cause,'" Dan said. "Sometimes we're in airports and people ask him what he's doing, and give money. The goodness of strangers is amazing."
That willingness to get behind Operation Warm and Nikolas is evident on his webpage, which lists his various media appearances on local television news programs, as well as CNN, "CBS This Morning," Channel 7 News in Australia, and many more.
Nikolas and his father have run marathons twice in Antarctica. That's 26.2 miles each time.
"It was summer there, and it was about 35 degrees," Nikolas said. "It was a great temperature and a really nice run. Just being able to see penguins while you're running -- you can't see that every day."
In Australia, he raced during their winter, beginning the race at 6 a.m. "It was really cool because I got to hold a koala, see kangaroos. It was right out of Brisbane," Nikolas said. The Toochecks have relatives in Australia, so accommodations were taken care of.
Next, Nikolas has his sights set on a June 29 marathon at Victoria Falls in Zimbabwe. Of course, his father admitted that he is left to do the organizing of these trips.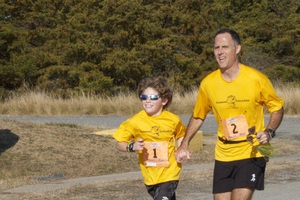 "As a parent, you want your kid to dream big," Dan said. "At first, I didn't know if there were marathons on all seven continents. So we had to look that up. It seemed at first like a great idea, but was it really achievable? I mean, the youngest male who had ever run in Antarctica had been 21 years old. So for a 9-year-old to go there and run seemed somewhat of a stretch."
On Feb. 11, the Toochecks got a surprise when Nikolas got a FedEx letter at home.
"I had no idea that my mom submitted it. I thought, 'What the heck? Mail? I never get mail,' I opened it and said, 'Whoa! I just won this award!'" Nikolas recalled. "It was awesome."
The letter advised Nikolas that he was one of Pennsylvania's two top youth volunteers for 2014 selected for the Prudential Spirit of Community Awards, a nationwide program that honors young people for outstanding volunteerism.
Dan said his wife, Tara, submitted Nikolas for the award. Hillendale principal Steve Dissinger was also in on the plan. Out of some 28,000 nominations nationwide, Nikolas is only one of three 10-year-olds selected. There are 102 young award winners in all.
As a winner, he will get a $1,000 prize, an engraved silver medallion, and a four-day trip to Washington, D.C. When asked what he'll do with the prize money, Nikolas said immediately, "I'm going to donate it."
While in Washington, Nikolas will tour the city's landmarks, meet top youth volunteers from other parts of the world, attend an awards ceremony at the Smithsonian's National Museum of Natural History, and visit congressional representatives on Capitol Hill.
Outside of running, Nikolas said he plays baseball and has a gift for track and field. Last weekend, he was due to try out for the U.S.A Track and Field Indoor National Championship in New Jersey, which will be held in March. This coming weekend, he is due to give the keynote speach in front of some 300 Rotarians in King of Prussia. But that's nothing. He has also spoken in front of about 2,000 people at a running festival for Runner's World, the leading magazine for runners.
"He's a one-man band," Dan said. "He's always been very self-guided and motivated. Truthfully, nothing he does surprises me," he added, laughing. "He has so much potential."
Nikolas didn't mention the fact that he has a whole page devoted to him in the February issue of Sports Illustrated for Kids, but Dan did once Nikolas had gone off to class at Hillendale on Friday morning.
And he marveled at how Nikolas has been comfortable meeting Jackie Joyner at the Outdoor National Junior Olympics in St. Louis, where Nikolas didn't recognize the Olympic champion, but she ended up inviting him to visit her at her foundation in downtown St. Louis. He's totally at ease around legendary marathon runners, and they respond by promoting Operation Warm through social media.
"He's having so much fun," Dan said. "He's been to Antarctica twice in the past 11 months. How many people can say that? When he's 18 and he looks back, I think he'll be amazed at what he's accomplished."
To donate to Operation Warm through Nikolas, visit www.nikrunstheworld.com.