Logan's night of threes leads Oxford to playoff win
02/25/2014 04:28PM ● By Acl
Oxford's Musty Mahmud takes the shot in third quarter action.
By Richard L. Gaw
Staff Writer
For most of this season of Oxford High School basketball, the post-game demeanor of head coach Sean Harvey has been cooler than the other side of the pillow, due mostly to the fact that his Hornets squad was compiling a winning season. At the conclusion of last Friday night's 58-55 win over visiting Harriton in the District 1 Class AAAA consolation playoffs however, Harvey's face was etched with the expression of someone who has just left battle. In many ways, the win was indeed a kind of small war, from buzzer to buzzer.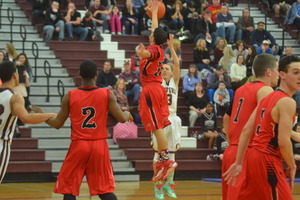 Coming into the game with a 15-10 overall record and led by top scorers Alex Shippen and Tas Dixon, the Rams hounded the Hornets with a game-long full-court press while exchanging baskets with Oxford for three quarters. However, for anyone who has followed the Oxford squad this season, the Hornets have relied on one of their primary shooters to step up and deliver each game, and on this night, it was senior guard Jordan Logan, whose five three-pointers – three of them coming in the fourth quarter – led to a game-high 19 points.
With the victory, the 12th-seeded Hornets played host to 17th-seeded Methacton (17-9 overall) on Feb. 25 at Oxford, with the winner being awarded a place in the Pennsylvania Interscholastic Athletic Association (PIAA) tournament.
Although Oxford jumped to a quick 6-4 lead early in the game, Harvey called a timeout with 4:21 left in the first, to help settle his team from the pesky onslaught of Harriton's press. Soon after, Ethan Herb's three-pointer staked Oxford to an 11-4 lead, and with 1:30 left, Ryan Hubley found Miles Clarke on the baseline to extend the lead to 13-5.
Harvey said he anticipated that Harriton would press, and gave credit to his reserve players, who helped prepare Oxford's starters in practice for being able to break the defensive strategy.
"The guys that don't get in that you don't see every day do a fantastic job in practice to prepare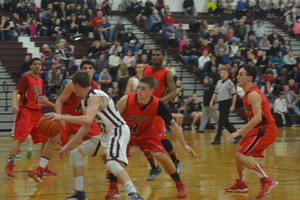 us," Harvey said. "Sometimes we go five on six, sometimes we go five on seven. I give them all the credit in the world for helping us break that press. It's just unfortunate that they don't get an opportunity to shine often during the games."
Held scoreless in the first quarter, Shippen began to find his range in the second, hitting three jumpers while Oxford answered back with two three-pointers by Shane Quigley, and one each by Brian Dorsey and Logan, whose shot came with four second left in the half to give Oxford an 8-point lead at halftime.
The tenor of the game changed in the third quarter when, after a alley-oop pass from Dunn to Hubley extended Oxford's lead to 38-31 with three minutes left in the quarter, a Dixon three-pointer cut the Hornet lead to one point. With less than two minutes remaining in the quarter, two successive steals by Harriton led to baskets by Jake Rosenberg and Drake Friend to tie the score, 42-42.
Clinging to a slim four-point lead with four minutes left in the game, Harvey directed his squad to go to a four-corners stall, which forced Harriton to foul in order to get the ball back. The strategy was effective, as Oxford sank seven of ten free-throw attempts, including two by forward Musty Mahmud who, with 21 seconds left in the game, sank both free throws to give the Hornets a three-point lead, 58-55.
"We just wanted to milk the clock because we were having a difficult time keeping them in front of us," Harvey said. "We didn't want to trade buckets. I needed to make that game get over as soon as possible. We went to the four corners a little sooner than I wanted to, but they executed. Theoretically, it was the right thing to do."
The win improved Oxford's overall record to 20-7, and gave Harvey the fifth 20-win season of his Oxford coaching career.
In addition to Logan, Oxford was led by Hubley's 11 points, while Clarke finished with 9 points. Harriton was led by Shippen's 13 points and 11 points each for Dixon and Jordan Wright.