Five points of chaos: Residents voice opinions about Chatham intersection
02/19/2014 07:15PM ● By Acl
The future of the intersection of Routes 41 and 841 in Chatham was the topic of a public forum held Feb. 11.
By Richard L. Gaw
Staff Writer
At its finest, the center of Chatham along the Gap-Newport Pike exemplifies the qualities of a small town, where neighbors have known proprietors for a lifetime, and a free hand always seems available to lend directions or assistance. At its worst, it is a brief but confusing five-point intersection, and to many, any talk about its future cannot be done until Chatham itself is cleared from the cluster of roads, blinking red lights and 18-wheel trucks that all threaten to suffocate it.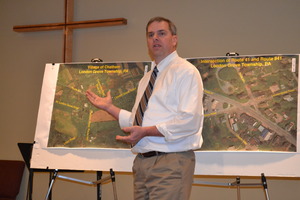 On Feb. 11, before the London Grove Board of Supervisors, the future of this hamlet's main thoroughfare was effectively placed in the residents' hands, in a town hall forum held at the Stillwater Presbyterian Church. Over the course of 90 minutes, the event gave 40 area residents a platform to share their opinions on subjects as far ranging as the inclusion of roundabouts to re-purposed infrastructure to traffic calming measures.
The purpose of the meeting, supervisor and vice-chairman David Connors told the audience, was to "formulate a vision" that the supervisors will share with the Pennsylvania Department of Transportation (PennDOT). The forum was also held in conjunction with an online transportation improvement survey PennDOT is currently conducting with area residents (www.pa41.com), that asks for public input on the Route 41 and Route 841 intersection, as well as the Route 926 and Route 41 intersection in Londonderry Township, the intersection of Route 796 and Route 41, and the intersection of Route 41 and White Horse Road, also in Londonderry Township.
The 20-question Chatham survey asks residents to provide information on their mode of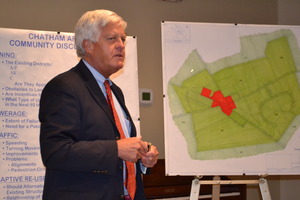 transportation, the frequency of times they drive through the intersection per day, the degree of difficulty they have in navigating through the intersection, and whether or not the traffic signage is adequate. 
"We want to understand the needs of the community and so began taking a look at what their needs are," said PennDOT project manager Steve Fellin. "We decided to talk to the people who drive through this every day, to understand what they feel needs to be done to enhance safety and increase flow. We're still early on.  We're looking at everything right now."
The surveys were made available on Feb. 3, and as of Feb. 13, Erdman Anthony and Associates, a Camp Hill, Pa.-based consulting firm hired by PennDOT to analyze the surveys, received about 200 responses. At the end of the month, PennDOT and Erdman Anthony will review the surveys, complete their analysis by the summer and then share their findings with township leaders and the general public. 
The town forum also dovetailed with a 2013 letter of cooperation signed by representatives from four area townships and one borough, who gave a wish list of suggestions on how Route 41 may be improved, which included London Grove Township's request to include safety and traffic calming measures to Chatham at the intersection of Route 41 and Route 841.  Addressed to Rep. John Lawrence, Rep. Chris Ross, Sen. Dominic Pileggi and Sen. Andrew Dinniman and sent last July, the letter was signed by Connors; Stephen Allaband of the New Garden Township Board of Supervisors; Bill Shore of the Avondale Borough Council; Richard Brown of the Londonderry Township Board of Supervisors; and Scudder Stevens, now the chairman of the Kennett Township Board of Supervisors.
The letter was response to The Chester County Planning Commission's (CCPC) request for input from all municipalities in the county as it prepares the 2013 Transportation Improvements Inventory (TII).
"At this point, all respective boards have agreed that it is in their mutual best interest to support the projects listed on each others' TII with respect to their relationship to and impact on Route 41," the letter stated. "The goal is for the five municipalities to agree on the priority of improvements along the corridor and to seek funding for their construction."
Connors told the audience that he has recently spoken with representatives from PennDOT, who told him that improvements on Route 41 had been held up for many years because several townships and municipalities continuously disagreed with each other on  the proper course of action for the highway.  
"Once we got everyone on the same page, things started moving pretty quickly," Connors said, referring to the letter. "Since we initiated this letter of cooperation, I have gotten the sense that PennDOT wants to work with us. They're not going to pull away from us and do what they want to do. They really want us involved."
Wayne Grafton, a land use planner with the Kennett Square-based Grafton Association, said that the issue of the Route 41-841 intersection dates back to the London Grove Township Comprehensive Plan, adopted in 2011, which stated that the township will seek ways to preserve the historic character and ambiance of the junction through a series of traffic calming measures "that could include tree plantings, textured and colored paving materials and gateway features."
One of the components of the plan, Grafton said, called for revisions to the township zoning ordinances, which provides the outline for planned development. Although the plan calls for Chatham to be designed as a village, Grafton said that it gave no specifics on how it would be done.
"The question from a planning perspective is, 'What is the best way to satisfy those needs in a safe manner that satisfies  the long-term vision of creating a pattern of land use that's spelled out in the comprehensive plan?'" Grafton said. 
One way would be to bring in businesses who could help create a walkable community and boost commerce, and create a village feel in Chatham. Grafton told the audience that a major issue concerning the area is deciding on an adaptive re-use of the structures already in place, which in many Chester County historic towns, often becomes a slippery slope of filling older buildings with businesses inappropriate to what the buildings were originally intended for.
"Are those uses appropriate to the zone in which they're found, or should the uses be broadened to permit other things that encourage private development?" Grafton asked. "Would they be detrimental to the character of what is there today?  It's not uncommon that a business district would allow a variety of commercial uses, but the scale of commercial activity in Chatham is different than the use and size of commercial activities somewhere."
Jerry Baker, a traffic planning engineer, said that PennDOT has already begun to study the intersection, in collaboration with the Delaware Valley Regional Planning Commission.
"They (PennDOT) will look at traffic counts and volume, to see how many vehicles are going through the intersection in a given day, and run analysis that will tell them where the problems, if any, lay," Baker said.  
The common perception of the Chatham intersection is that the tangle of its roads and traffic signals have not only led to a bottleneck of traffic, but has given the area a reputation as a trouble spot for accidents.
Baker said that the intersection is reporting about five accidents there a year, and 19 collisions over the past five years that have involved 34 vehicles -- two of which were trucks.  Said that many were angle collisions, caused by those moving from side roads onto route 41. of these accidents, Baker said that 17 occurred during daylight. 
Statistics, however, do not always trump perception, and in the case of the Chatham intersection, some in the audience felt that despite the relatively low amount of accidents recorded there in the last few years, the intersection still presents a safety problem. 
"Is there any way that we can convey to PennDOT that there's a perception in this community that it's an unsafe intersection, rather than just looking at numbers," one resident suggested.
"There are things that go on here that don't necessarily show up in the data," Baker said, pointing out that reported traffic statistics may be less, given the fact that many area residents avoid the intersection altogether when driving.  
"They're just looking at their numbers," he said. "If we can tell them things that you deal with every day, it's going to be helpful."
Baker said that PennDOT used to design its roads with the idea of moving traffic only, but said that their days of myopic design may be over. He told the audience that he believed that the state agency has begun designing its thoroughfares for not only traffic volume but for pedestrians.  
"I would think that they're going to incorporated (this initiative) into this, and if it means sacrificing a level of service in order to make it more user friendly, I think they will go along with that," Baker said. "They're not going to do something that the residents don't want."   
Ian Lockwood, a nationally-known traffic engineer, was a guest speaker at two S.A.V.E. events over the past year regarding the future of the Route 41 corridor. At both presentations, Lockwood spoke in favor of the use of roundabouts as a traffic calmer. Baker agreed with Lockwood's assessment, saying that roundabouts are considered very safe because of the way they slow traffic down, and any type of collisions that do occur are generally low-speed, as opposed to head-on collisions.
After presentations by Grafton and Baker, the floor was opened to area residents, several of whom weighed in on problems and potential solutions.   
"Because it's five points, I find it a confusing intersection," said area resident Lou Kaplan. "I know there's a lot of things that go into whether a village can become commercially viable. One of them has to be whether it's walkable. Right now, without the post office, there's not a whole lot of need for me to go from Mr. Remley's garage across the street to the post office. I can run across the street if I need to, but that's very dangerous. If we want to see Chatham as a livable community, I think walking in it is going to have to be possible."
Any solution that's going to address quality of life should address noise, Kaplan recommended. "If we can get cars and trucks going 25 miles per hour through that intersection, it would accomplish a tremendous amount," he said. "Roadways can be designed in such a way that the geometry forces the driver to act in a certain way. That's what I think could be done here, so that the roadway can function as a way to carry traffic, but also respects the pedestrian." 
Several in the audience agreed with Kaplan.
"It's a high volume road, and I don't think we can fix that high-volume road, but we can make it a more user-friendly road," said area resident David Whiteman. "I really think speed is the key.  If we slow it down, we may make it a little more pedestrian-friendly."
"I kiss my kids good-bye every morning for a reason," said area resident Rand Singer, who rides on Route 41 as many as five times a day. "It is horrible, and it's not going to take more than one mistake to be done."
He pointed to poorly-placed signage that obstructs drivers' view of the intersection, as well as the presence of trash trucks, who he said veer off heading north off of Route 41, in a hurry to finish their particular routes.  
Grafton agreed with one resident's opinion that the idea of developing Chatham into a village can not be done until the issue of traffic and speed is addressed. She pointed to the area of Greenville, Delaware, which has initiated traffic slowing mechanisms along Route 52 that have created a more village-like setting. 
"You can have disruptive elements always interrupting a commercial setting," Grafton said. "That's part of the discussion. Is there that type of future from a land use perspective for Chatham, or is Chatham more of a residential village rather than a commercial village, or is it a mix?
"When you talk about a village, many times it's an evolution," Grafton added. "It doesn't start out as a commercial enterprise. It often starts out as a re-use of a building. You can have a store below and an office together, and then they start to hang together, a village is then created."   
Many in the audience said that if there were boutique shops, restaurants and places to shop created in the town, they would use them, especially if traffic were slowed down. Some in the audience called for the placement of stop lights at the intersection of Route 841 and Route 41 – merely as a way of slowing the traffic down. Currently, there is a blinking red light at the intersection. Baker said that installing a stop light would not cease the traffic and speeding problem in the intersection.  
"There's no easy answer, but we need to look at the common good for everybody," one resident said. "We're survivors. We know how to make Chatham work."
PennDOT spokesman Gene Blaum said that PennDOT is dedicating $5.3 million in federal dollars to the Route 41 study – which is being targeted to pre-construction activities, preliminary engineering, environmental engineering, and final design. With the anticipated costs associated with working with Erdman Anthony, that figure is expected to reach $6 million.    
Hard copies of the PennDOT survey related to Chatham can be obtained at the Londonderry and London Grove township buildings. The deadline for survey responses is Feb. 28. 
*** 
Excerpts from 2011 London Grove Township Comprehensive Plan
Chapter 3: Growth Management Plan for Chatham Village
"Chatham village has retained several historic structures, and to some degree, some of the same retail, office, and residential uses consistent with small villages. With steady increases in traffic along PA Route 41, including truck traffic, the village ambiance has been undermined. Nonetheless, the crossroads of Gap Newport Pike, E. London Grove Road, and PA Route 841 forms a small cluster of buildings with a few shops, offices, and residences, together comprising a character that is unmatched elsewhere in the township."
"Chatham village's special identity is something that London Grove Township would like to keep. An important goal of the Plan is to protect the village qualities of Chatham that make it a unique place. The Land Use Plan incorporates a CV-Chatham Village area, signifying a distinct village environment that should be preserved through the planning period."
"The path of PA Route 41 (Gap Newport Pike) through the center of Chatham Village represents a particularly strong challenge to the continuity of a village character at this location. The character of a highway, emphasizing throughput of traffic versus that of a pedestrian-friendly village, underscores
the conflicts that will continue at this location. In order to control traffic effects on the village and to keep vehicle speeds down on this roadway, the Township should pursue installation of a series of traffic calming measures that could include tree plantings, textured and colored paving materials, and
gateway features."
"...London Grove Township should study Chatham village and its vicinity more closely, looking at the implications of expected traffic volumes on the village and ways that it can retain its character. Opportunities to preserve and enhance the historic character, uses, and interpretive aspects of the setting should be explored. Such a more-focused village plan should include the participation of Chatham village residents, including the residents in new residential subdivisions that may have previously been considered outside of the village, and Chatham business operators."