Chadds Ford Gallery's latest show has 'Energy' theme
02/19/2014 06:55PM ● By Acl
'On the Move' by Shawn Faust.
By John Chambless
Staff Writer
The "Energy" theme of the latest exhibit at the Chadds Ford Gallery is rather loosely applied, but it sort of works if you include solar energy, because there are some not-particularly-energetic subjects on display. They are, however, nicely done.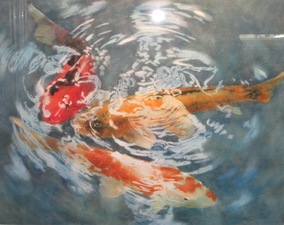 There's a tiny ripple of energy in "Circle of Koi, Winterthur" by Margaret Smith, which gracefully captures sunlight glinting on water. The vividly colored skies are the energetic parts of Rick Bollinger's watercolors "Chadds Ford Dawn" and "Coventry Twilight," but Don Shoffner takes an unusual subject – a tangle of wires and electric meters – and creates a nice little watercolor, "The Meters Running."
Jacalyn Beam's use of light in her "Morning Light"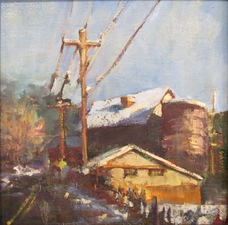 and subtle "Marsh Colors" is admirable. Even the flat, gray tone of her winter scene, "The Winterthur Bridge," is just right.
Billy Basciani's elaborate, hand-carved gold frame in "Carousel" extends the amusement park theme right off the edge of the canvas, adding up to a highlight of the exhibit. Rob Stine's small "Twilight Flight," a view of mist-softened fields and trees under a full moon, has a wonderfully serene mood. 
Joe Jacobs' stylized watercolors of horses in mid-stride nicely capture the energy of the animals, but it's Robert Stack's "Winterthur" and "Obstacle" which probably come closest to expressing the show's theme. They're vividly colored works that capture horses and riders in motion.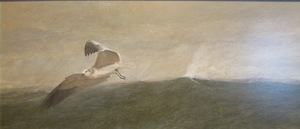 The finest painting in the show is by Robert Dance, an artist who's not from the region but contributes a real showpiece, "Ocracoke," a green-gray seascape of a gull in flight and a wind-whipped wave. It has the mystery and grace of a work by Andrew Wyeth, and it's a must-see.
There are two mysterious acrylics by Pamela Julian Smyers that combine finely rendered birds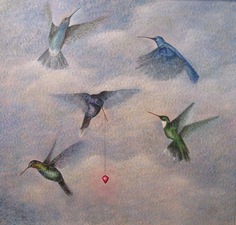 and dangling totem-like objects on strings ("Make Believe" and "Our Fathers"). They're both intriguing and very nicely painted.
Shawn Faust's "On the Move" is an epic-sized portrait of a fox in a field of snow and stubble. It's a fine effort, glowing with perfect winter sunshine, and it dominates one room of the exhibit. 
"Energy" continues at the Chadds Ford Gallery (1609 Baltimore Pike, Chadds Ford) through Feb. 23. Call 610-388-2412 or visit www.awyethgallery.com.
"Energy" Chadds Ford Gallery [4 Images]
Click Any Image To Expand