Brides-to-be find new ideas, personalized items at bridal event in Oxford
02/19/2014 05:33PM ● By Acl
Tim Owens and Vicki Smith at Brides by J.
By Avery Lieberman
Correspondent
As engagement season—the time between Christmas and Valentine's Day when men and women are most likely to get engaged—comes to a close, many brides need to start planning their weddings. Fortunately for them, Oxford meets all their needs. On Sunday, Feb. 16, brides-to-be, their fiancés, and bridesmaids journeyed through the shops in Oxford to learn about the bridal offerings that are available close to home.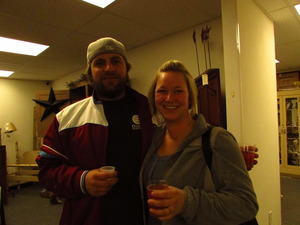 The day began at Oxford Odds and Ends. The brides-to-be had a chance to meet the vendors that could help make their big day even more special. As each vendor introduced themselves, the brides' eyes lit up at the thought of incorporating personalized items into their wedding day. Pickled Pickle creates custom designed stemless wedding glasses and handmade gifts, the Midway offers lace masks and veils, and Hull's Happiest Day Designs has personalized dessert ware and wedding favors.
Shawn Hull of Hull's Happiest Day Designs was also the hostess for the event. As an ice breaker, she had wedding games and giveaways. The winner of the Wedding Word Scramble received a free airbrush tanning from Texture Salon. Later on, all guests who were sitting on a chair with a white dot placed under received a lace mask from The Midway. To accompany the fun and festivities at Oxford Odds and Ends and the other destinations, there was catered food by KMT Catering, which gave the brides-to-be and their guests a chance to sample the food.
Vicki Smith, a bride-to-be from West Grove, enjoyed the variety of vendors that were present at the event.
"I really like the whole assortment of different vendors who are here so you can see a little bit of everything that you know you need but haven't really planned yet," she said.
The event continued a few doors down at Brittany Buitron Photography. Here the brides-to-be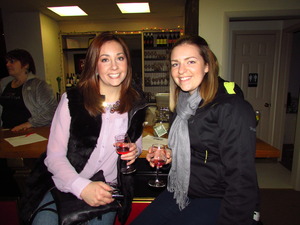 played a game that gave them a chance to win a gift card for photography. As a local, Buitron has already worked with some of the brides-to-be and their families.
"The photography is Brittany [Buirton]. She does all the photographs of our children and we love her," said bride-to-be Abby Wharton.
What made the event so great was how local all the shops are. Each stop during the event was no more than two doors down from the one before it. It was this that convinced some brides to attend. Oxford resident Amanda Reedy said, "Being a local, I think that this is a great way to get the people in the community together. It was nice to just walk right down the street today and have an event to look forward to."
Her fiancé, Tim Owens, summed it up best by saying, "It really keeps the small town feel."
A few doors down from Brittany Buitron Photography was Flickerwood Wine Cellars' new shop. Here, the brides sampled the wine and got a taste of what Flickerwood has to offer. In between sips of wine, the brides-to-be heard about the chocolate covered wine bottles and personalized labels that Flickerwood creates.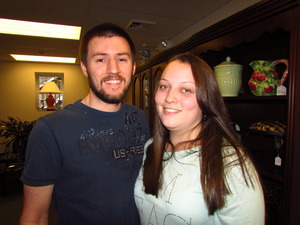 The event concluded at brides by J. The owner, Jennifer Kienzle, has an electric personality that is sure to make any bride feel comfortable and beautiful while trying on dresses. At brides by J, brides can try on once-worn or new dresses. What is special about these dresses is how unique they are. Whether a bride likes gold, lace, or feather, this bridal shop has it available to the brides that are looking.
"I found a dress that I really like at Brides by J, so I'm really excited to try that on," said Wharton.
The bridal event showed the true uniqueness of Oxford. Amanda Reedy said, "I think this is helping Oxford embrace the community charm we have here."
For local brides, there is no need to go further than Oxford. Whether looking for vintage, rustic furniture at Katgra Creations or make-up and peels for the bridal party at Peel's Mobile Salon, Oxford certainly has it all.