Rustin holds off tough Unionville squad, 59-49
02/12/2014 03:16PM ● By Acl
Unionville guard Steve Fatzinger scored 8 clutch points in the third quarter of the Indians' 59-49 loss to Bayard Rustin on Feb. 8.
By Richard L. Gaw
Staff Writer
It is insignificant, at the end of their regular season, that the Unionville High School varsity basketball team finished with a final record of 3-9 in the Ches-Mont American division standings, or that they finished with six wins and 16 losses. There have been enough bright spots seen by head coach Joe Kilpatrick this year to be confident about what is to become for his 2014-15 squad.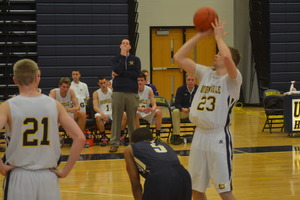 On Feb. 8, one day before they ended their season with a 59-40 defeat against 20-2 Great Valley, the first signs of what is to come for the future of Indian basketball introduced themselves during a 59-49 loss to visiting Bayard Rustin (14-8 overall). For nearly three quarters of the game, a tough zone defense helped to keep Rustin's leading scorer Ethan Ridgeway in check and keeping the game within striking distance on clutch shooting by Dan McClaskey and Steve Fatzinger.
Unionville got off to a quick start in the first quarter when Ryan Engle's 3-pointer gave the Indians a 5-2 lead, but a full-court press and man-to-man defense by Rustin, one marked with ball strips and poor passing, unraveled Unionville. With 1:30 left in the first, a steal by Ridgeway led to a 3-pointer by Matt McCarrick that gave Rustin a 15-7 lead. A driving layup by the Indians' Matt Godek, followed by spinning move by Atma Bery, cut the Rustin lead to 15-11 at the end of the first.
As the second quarter began, the Rustin lead was briefly erased on a Godek layup, a pass by Alex Pechin to Bery off of a steal, and the first of three 3-pointers by McClaskey with 4:20 left in the half gave Unionville an 18-16 lead. Although Rustin regained the lead as the period wound down, Unionville knew that they key to beating the Golden Knights would be to stop Ridgeway, who came into the game with a 15.3 points per-game-average.
Unionville held Ridgeway to just four points in the first half, and as the second half began, Kilpatrick switched his teams' defense from a 2-3 zone to a 3-2 zone, which further contained Ridgeway. Meanwhile, Fatzinger took over the entire third quarter, scoring Unionville's first 6 points on a steal and a basket, a drive that tied the score at 30, and a jumper on the Indians' next possession that gave Unionville a 32-30 lead. Although Rustin was held scoreless fro the first three minutes of the third period, baskets by Andrew Chobany, Ridgeway and Tyler Blake gave Rustin a 36-32 lead with 2:40 left in the period.
"Our 3-2 defense in the third quarter when we scored six straight points was superb," Kilpatrick said. "We were showing a 2-3 defense in the first half, and Ridgeway was beginning to penetrate, so by switching our defense, we were able to begin trapping him the corner."
The truest indicator of a team's determination is often how they respond to adversity, and with four minutes left in the game and down by 5 points after a three-pointer by McClaskey, Kilpatrick called time-out. "I told them that the game would be won on the defensive side of the ball and when we got the rebound, that to get good shot selection and quality passes," he said.
After the time out, a basket by Matt Foster cut Rustin's led to 46-43, and two free throws by Engle cut into Rustin's offensive stall strategy to pull Unionville within one. However, a burst of unanswered baskets by Chris Richardson, Brennan Halverson, and free throws by Ridgeway and Chobany had padded the comfortable Rustin lead.
Unionville was led by Engle with 11 points, while Fatzinger and McClaskey finished with 10 points each. Rustin was led by Richardson with 10, while Ridgeway, Chobany and Tyler Blake scored 9 points apiece.
Referring to his junior class of Engle, Bery, Godek, Pechin, Chad Rafetto and Jimmy Nowosiat, Kilpatrick said that the game experience each has received this season will provide his team with a safer landing for next year.
"For the juniors who are returning, they will be able to learn from the mistakes they're making now," he said. "Our junior varsity team has won 14 games in a row, so if we take the current sophomores and blend them with our current juniors, we should have a pretty strong unit next season."