Massetti, LaCosta turn in strong performances for Kennett
02/12/2014 02:00PM ● By Acl
Kennett's four seniors--Emmet Devlin, Tristan DiCicco, Cory Tomasetti, and Kyle Werner—were honored during Senior Night on Feb. 7.
By Steven Hoffman
Staff Writer
Kennett honored four of its top grapplers—Emmet Devlin, Tristan DiCicco, Cory Tomasetti, and Kyle Werner—during Senior Night on Feb. 7, and saw strong performances from Drew Massetti and Tyler LaCosta as the Blue Demons dropped a match to Great Valley, 49-27.
Massetti scored a first period pinfall over Mike Colon and LaCosta pinned Izaiah Colon as they continued their strong seasons for the Blue Demons.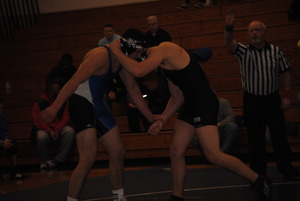 Kennett coach Tyrone Johnson said that he has come to expect good showings from Massetti, a freshman, and LaCosta, a sophomore, but this was a night to celebrate the contributions of the team's four seniors.
"I'm going to miss my four seniors," Johnson said. "They are all great kids and good students. It's nice to have them on the team to be role models for the others." 
Tomasetti, one of the four seniors who were honored during a pre-match ceremony, lost a narrow decision, 3-2, to Dean Lang at the heavyweight class in the hardest fought contest of the night.
Johnson said that Tomasetti has improved tremendously during his four years with the team.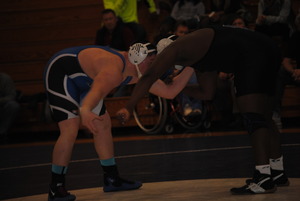 Because of Tomasetti's size, he was often matched up against juniors and seniors when he was a freshman. He worked hard to meet the challenge and by his sophomore season he reached the 20-win plateau. He has improved even more in his junior and senior seasons.
"We're very proud of how far he has come," Johnson explained.
Johnson said that DiCicco, who wrestles at 145 pounds most of the time, has worked hard to overcome injuries and is now wrestling as injury-free as he's been all season.
"He's done very well. We call him 'triage' because he's been fighting so many injuries. He's worked hard to overcome them," Johnson explained.
The coach said that Devlin, a 152-pound grappler, has perfected a series of moves that sets up pins for him. He's become so adept at the moves that his teammates and the Kennett fans look for them.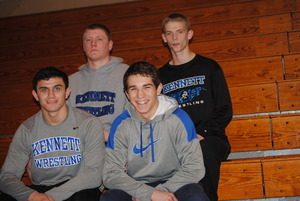 Unlike the other three seniors, Werner has not spent four years on the squad because he transferred in as a sophomore. Johnson said that Werner has progressed very well with each successive season to develop into one of the squad's top performers.
Despite the leadership of the four seniors, and the strong showings by Massetti and LaCosta, Kennett couldn't find a way to best Great Valley.
Great Valley got off to a strong start as Nick Chawaga won by forfeit at 145 pounds and Shane Ruhnke pinned DiCicco at 152 pounds. In the 170-pound match, Nate Tang pinned Graham Sergeant, while Adam Drill pinned Alvaro Gomez in the 220-pound contest. Dom DiPiazza scored a major decision over Werner at 182 pounds. Cole Kemmerer won by forfeit at 106 pounds. At 126 pounds, John Dodson pinned Kennett's Jacob Eberle after nearly five and a half minutes of fast-paced action. Raymond Colon scored a pin over Aidan Shaw at 132 pounds.
For Kennett, Devlin won by forfeit at 160 pounds and Mary Nichols won by forfeit at 113 pounds. At 195 pounds, Rudy Perez out-maneuvered Marcus Johnson for a 1-0 decision in an evenly matched battle.
As the regular season comes to a close this week, Kennett's grapplers will be preparing for the Ches-Mont League League Championships that begin on Feb. 15.
Kennett Wrestling February 7, 2014 [4 Images]
Click Any Image To Expand