Kennett festival draws 1,800 chocolate lovers
02/12/2014 01:37PM ● By Acl
From left, Mia Giancola, Casey Kennedy, Chloe Kennedy and Carly Kennedy each take a bite out of the Kennett Chocolate Lovers Festival, held Feb. 9 at Kennett High School.
By Richard L. Gaw
Staff Writer
In 2013, the first annual Kennett Chocolate Lovers Festival was held in the Red Clay Room in Kennett Square, when a crowd of 1,400 devotees of the sweet stuff stuffed not only their faces but the room itself.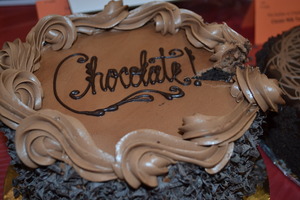 This year's festival, held Feb. 9 at the Kennett High School gymnasium, may have provided a little more room but not much, as a crowd of 1,800 chocoholics enjoyed a huge assortment of cakes, cookies, cupcakes and more made by students, amateurs and professionals. Over the course of the three-hour event, visitors enjoyed samples from 17 vendors and more than 200 tastings, served by students volunteers from Kennett and Unionville high schools.
In addition to tastings, the festival sponsored judged competitions from restaurants, bakers, professionals, amateurs and students. Prizes were handed out in the professional, amateur and student categories for top cakes, brownies, candies, cookies and cupcakes.
Winners in the professional cake division included a first place prize to Andrea Brandii for her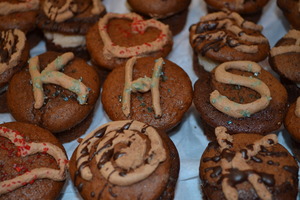 hazelnut almond marjolaine, and The Gables at Chadds Ford, which earned a second place prize for their Cacao Nilo Torte. Lisa M. Hunter, a Wilmington pastry chef, took the third place prize in the cake winner's professional division, for her chocolate hazelnut cake.
"I've been doing this for the last eight years, and have had the opportunity to work with several chefs in the last six months of 2012, and it's enabled me to become more creative," said Hunter, who finished in third place in the same division in last year's festival for her chocolate truffles. "The chocolate hazelnut cake was a recipe that I found, and I put my own spin on it."
Held as a benefit for the United Way of Southern Chester County (UWSCC), the festival nearly doubled its contribution to the agency this year, increasing its contribution from $9,500 in 2013 to $16,000 this year. The UWSCC serves the residents of the Avon Grove, Kennett Consolidated, Oxford and Unionville-Chadds Ford school districts.
Chocolate Lovers Festival 2014 [4 Images]
Click Any Image To Expand