Oxford businesses collaborate on bridal event
02/12/2014 01:26PM ● By Acl
Shawn Hull, the owner of Hull's Happiest Days Designs, came up with the idea for organizing a bridal event in downtown Oxford. It takes place this Sunday, from 2 to 4 p.m.
By Steven Hoffman
Staff Writer
The time between Christmas and Valentine's Day is the peak for couples to get engaged, so now is the time that brides-to-be start planning out every detail of their dream wedding. A group of business owners in Oxford are organizing a bridal event that will showcase local wedding professionals and artists who can help make the big day even more special on Sunday, Feb. 16 from 2 p.m. to 4 p.m.
The brides-to-be will start out at Oxford Odds & Ends, where they will have a chance to mingle, meet with vendors, and enjoy some food. The event continues at Brittany Buitron Photography and the bride by J bridal salon.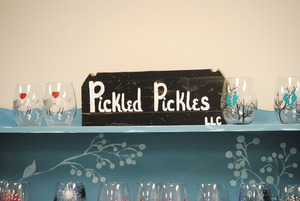 "This is the time of year when a lot of brides start thinking about their weddings," explained Shawn Hull, the owner of Hull's Happiest Days Designs, which makes hand-created porcelain dessertware and custom keepsakes that celebrate milestones in a person's life. She and her husband, Kevin, started the business as an Etsy shop and it quickly grew into an online store. She opened a small shop at Odds & Ends to help grow the business locally.
"We have quite a following now, but a lot of people locally didn't know that we existed. We liked the idea of being here at Odds & Ends and working with like-minded vendors."
Hull came up with the initial idea of hosting a bridal event. She reached out to other vendors at Odds & Ends, and everyone was enthusiastic about the concept.
At this time last year, an event of this type would have been unlikely in Oxford. But then, late last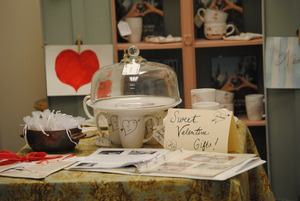 summer, Jennifer Kienzle opened her second bridal shop, bride by J, on North Third Street, giving Oxford its first destination store for brides. Other businesses that have wedding-related offerings also opened. Participating vendors for this bridal event include Hull's Happiest Days Designs, The Midway, Brittany Buitron Photography, bride by J, Pickled Pickle, Thirty One, Peel Skin Care and Makeup, KMT Catering, Vantels Jewelry, Katgra Creations, and more.
Hull said that brides-to-be will be able to find new custom and handmade wedding gifts and favors, vintage and up-cycled décor, and bridal accessories. They can also meet with wedding professionals and learn about the vintage and never-worn bridal gowns, catering, and photography that is available in Oxford.
Jennifer Campion, the owner of Pickled Pickles, said that she offers stemless wine glasses that can be custom-designed for a wedding, as well as other hard-to-find items that would be appropriate for a rustic wedding setting. She is excited about the bridal event.
"It's going to be a one-of-a-kind experience," she said.
Kienzle said that she's looking forward to the opportunity to show customers the dresses and formalwear that she has to offer.
"New things come in all the time," she said. "We just got 20 new dresses in today."
Kienzle said that lace wedding dresses are popular this year, and more and more brides are deciding to have outdoor weddings or receptions in rustic settings.
Kienzle has more than two decades of experience in the business. She said that she always tells
 brides to keep an open mind when they are starting the process of selecting a dress. Sometimes, brides can make up their minds about a particular style of dress just by seeing it online—without taking into account how it looks once they see it in person. She said that brides should rely on bridal websites to get ideas, but ultimately there's no substitute for meeting with a trusted professional to help with the most important decisions.
Hull pointed out that many brides now want to personalize their weddings more, and the local artists and wedding professionals at the upcoming bridal event can help with that.
"There are a lot of artisans and vendors locally where they can get personalized service," she said.
The vendors are organizing games, giveaways, and a raffle for the attendees. The menu will include tea sandwiches, cream of asparagus soup, macaroons with white chocolate mousse.
Limited seating is available for the event so RSVP at [email protected] or call 610-470-3796.