The Perfect Brew finds its niche in West Grove
02/06/2014 04:56PM ● By ACL
Christine Gallagher (left) is the manager and Chantal Smith (right) is the owner of The Perfect Brew.
By Steven Hoffman
Staff Writer
After successfully opening The Perfect Brew Coffee House and Café in Sea Isle City, New Jersey, in early 2013, Chantal Smith wanted to find another location near her home in New London Township to open a second coffee shop. The Sea Isle City shop had a good first year, but it will close each October when the beach town settles in for the winter.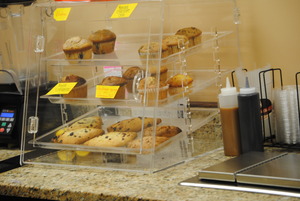 She was still looking for a location when the gift shop in the Jennersville Regional Hospital decided not to renew its lease. During a conversation with hospital CEO Mathew Gooch, Smith became convinced that it was the ideal location for a second shop.
"Matt expressed that they were trying to revitalize the hospital," Smith explained. "I thought it was a great opportunity to be involved in my community."
The Perfect Brew Coffee House and Café opened in Jennersville Regional Hospital during the first week in January with a menu that included a variety of coffee offerings and breakfast foods.
The response was immediate and enthusiastic.
"People are very happy that we are there," Smith explained. Within just a few weeks, responding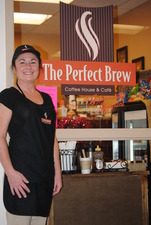 to repeated requests to do so, Smith has introduced a lunch menu. The Perfect Brew is a nice alternative to the hospital's cafeteria.
Smith said that the hospital staff and visitors are particularly happy that, unlike the cafeteria, the coffee shop is open on weekends. 
While the Sea Isle City coffee shop is about 750 square feet, the West Grove location is just 260 square feet.
"We use every square inch," Smith said with a chuckle.
She previously worked at MBNA. A love of coffee and coffee shops led her to explore the possibility of opening her own shop. She went to a barista school on the West Coast before opening the business.
"I learned everything from A to Z about the business," Smith explained.
After tasting a lot of different roasts, she decided to work with Dallis Brothers Coffee of New York.
"The quality of the coffee is excellent," Smith explained.
The menu includes a wide variety of espressos, lattes, and coffees, as well as frappes, smoothies, and teas.
The breakfast menu includes a variety of favorites including New York-style bagels, breakfast sandwiches that are made to order when the customer orders one, muffins, or pastries. The lunch menu includes a wide selection of sandwiches, including gourmet chicken salad, turkey, ham, or BLTs.
"We also have specials every day," Smith explained.
In the first few weeks, most of the customers were hospital employees or people visiting patients, but Smith is also reaching out to others who live or work in the area.
"Since we opened, business has been very steady," Smith said. "Now that we're getting the word out and getting the menus out, we're seeing the business grow." 
***
The Perfect Brew Coffee House & Cafe is open Monday through Friday from 6:30 a.m. to 5 p.m., Saturday from 7:30 a.m. to 2:30 p.m. and Sunday from 7:30 a.m. to 1:30 p.m.