Unionville defeats Sun Valley from the line, 56-49
01/29/2014 05:54PM ● By Acl
Unionville point guard Atma Bery finds the lane during the Indians' 56-49 victory over Sun Valley on Jan. 23.
By Richard L. Gaw
Staff Writer
In the vocabulary of basketball, there is perhaps no more perfect description than the one used for 'free throw." The half circle at the top of the key is commonly referred to as the "charity stripe," and last Thursday, Unionville took full advantage of the charity given to them, in a 56-49 defeat of Sun Valley in Ches-Mont American Division play.
The Indians converted 26 of 34 free throws, led by junior guards Ryan Engle, who went 7 for 8, and Alex Pechin, who sank 6 of 8 in the second half.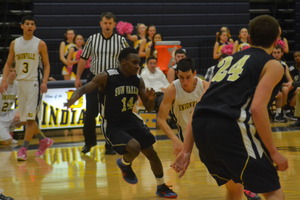 "Any time you get to the line 34 times in a game, you're going to be tough to beat," said Unionville coach Joe Kilpatrick. "I keep preaching to the guys that it's important that we make our free throws, because that's often the difference between winning and losing."
Although the opportunity to make free throws is not written in the game plan of basketball, targeting a particular opponent often is, and for Unionville, the primary plan was to figure a way to stop Sun Valley's high-scoring guard Juwan Chandler. Within seconds of the opening tip-off, Chandler's jumper gave the Vanguards a quick lead, which was eventually erased on Engle's 3-pointer with 5:15 left in the quarter, then followed by a driving layup by Steve Fatzinger.
As the second quarter began with Sun Valley clinging to a slim two-point lead, it was becoming apparent that Unionville's zone defense was not going to contain Chandler. Senior forward Dan McClaskey's shot tied the game, and then a steal by junior point guard Atma Bery led to a layup by junior center Matt Godek, but each time, Chandler followed with a basket of his own. Midway through the quarter, Kilpatrick employed a box-and-one defense, and put senior guard Tyler Hofmann-Reardon on Chandler. For nearly the remainder of the half, Hofmann-Reardon completely took Chandler out of his game, while allowing his teammates to chip away at a slim Vanguard lead. While slowing down Chandler, Unionville recorded three steals on three consecutive Sun Valley offensive efforts, Engle sank five free throws, and junior forward Chad Rafetto scored six points, which helped give the Indians a 28-20 halftime lead.
"Tyler may be our best on-ball defender," Kilpatrick said. "I told him after the game that his work on Chandler in the second quarter was the best three-minute defensive effort I've seen all season. It came at a critical time when Chandler was beginning to get hot, and it enabled us to build a nice lead going into halftime."
With Hofmann-Reardon on the bench as the second half got underway, Chandler reverted back to his earlier ways, and his three-pointer and two free throws cut the Unionville lead to five points. Minutes later, Sun Valley's guard Jay Evans' steal tied the score at 30, and only a three-pointer by McClaskey with 2:30 left preserved Unionville's five-point lead at 37-32, as the third quarter ended.
If there was any clear evidence that effective free-throw shooting accounted for Unionville's win, it was seen at game's end, when the Indians made 15 of their 19 fourth quarter points from the line, mostly on deliberate fouls by Sun Valley in an attempt to get the ball into Chandler's hands. Engle, Bery, Pechin, McClaskey and junior forward Jimmy Nowosiat all made free-throws during the quarter.
Engle scored 12 points for Unionville, which was also led by Bery's 9 points. Sun Valley was led by Chandler with 21 points, while Shane Gilfoy and Evans had 8 and 7 points, respectively.
With the victory, Unionville (5-11 overall) climbed to 3-5 in the Ches-Mont American, while Sun Valley (4-10 overall) fell to 2-6 in the division. Unionville travels to Avon Grove on Feb. 1, while Sun Valley plays at Octorara on Jan. 30.