Oxford's Hubley is having a junior year to remember
01/29/2014 07:48AM ● By Acl
Oxford junior Ryan Hubley is a two-sport star for the Hornets. On the football field, he is a wide receiver, safety, and punter. He also serves as the defensive backs and wide receivers coach for the Oxford Golden Bears 120-pound team. "I had a blast doing that—teaching the younger kids and knowing that they are going to come up and be in my position one day."
By Steven Hoffman
Staff Writer
When Oxford head football coach Mike Pietlock calls Ryan Hubley a football player, it's the highest compliment that he can pay to one of his players.
Any person on the roster is a football player, of course. But any coach will tell you that there are football players…and then there are football players.
Hubley is a football player.
"Some people just have a certain instinct for the game," Pietlock explained. "And Ryan has it."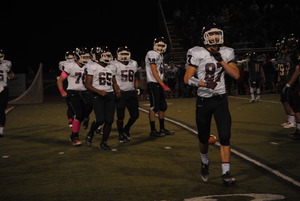 Combine those football instincts with talent, intangibles, and a strong work ethic and you have a rare football player. As a junior in 2013, Hubley was a standout as a wide receiver on offense and as a safety on defense as Oxford posted its finest season in more than three decades with a 7-3 record. Hubley also handled the punting duties for the team, and did a fine job with that task, too. There was rarely a play when Hubley wasn't on the field, and that's exactly how he likes it.
"He carries himself in a way that you just hope that the other kids are watching," Pietlock said. "He gives you the best effort every day."
During the last two seasons, whenever Oxford quarterback Ethan Herb needed a big play—a key first down, big yardage on a deep pass, or a clutch reception in the End Zone—Hubley has been a favorite target. The wide receiver caught 33 passes for 721 yards last season. Nine of those receptions were for touchdowns.
At six-foot-three, Hubley is usually taller than the cornerbacks and safeties who are trying to defend against him catching passes.
"I've always played receiver because of my height," Hubley explained. "It helps me with a jump-ball situation."
With his knack for making a big catch, Hubley long ago earned the trust of his quarterback.
"Ethan and I have been playing together since we were little," Hubley explained. "He has a heck of an arm and he can get the ball to me."
On the defensive side of the ball, Hubley registered 106 tackles and an interception. He also had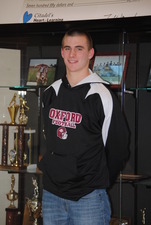 two tackles for a loss. In 2012, as a sophomore, he posted 73 tackles, 3 interceptions, and 4 tackles for a loss. He's equally adept at coming up to stop the run or dropping back in coverage.
He explained how he's able to be a difference-maker on defense as well as on offense.
"I've always been an aggressive player," Hubley said. "I've been a good tackler since I was young. And I'm good at playing the ball when it's in the air."
His accomplishments on the football field haven't gone unnoticed. He was an Honorable Mention selection for the All-Eastern PA squad. He was an All-Conference selection at wide receiver and at safety. He was named Outstanding Player- Wide Receiver and Outstanding Player- Free Safety. He was also a First Team All-Area Wide Receiver.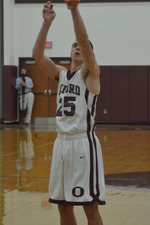 Hubley grew up playing football with his brother Cody, who was also a standout for the Oxford Hornets, and his cousins. There are enough football-playing family members to field a pretty good starting lineup. Hubley said that he learned a lot about sports from his father, Steven, who was a good athlete but didn't play football in high school because he was told that he was too short. He ended up having a growth spurt in college and topped out at six-foot-four. It was Steven Hubley who gave his sons advice on how to approach the sport they were playing.
"When we were young, he encouraged us to be the best that we can be—and to never give up," Hubley explained.
Although Hubley considers football his primary sport, he is a two-sport star who is a key part of the Oxford basketball team that has raced out to a 12-3 start on the season.
"Ryan and the rest of these kids on the basketball team are all throwbacks," said head coach Sean Harvey. "They really play team basketball and Ryan epitomizes teamwork. He does all the little things that help teams win that may not get noticed by the casual fan. It is certainly very appreciated by his coaches."
Harvey said that Hubley is the type of player that a coach enjoys having on the team.
"I have very much enjoyed coaching Ryan the past three years. His unselfishness is contagious and we have been having a very good season thus far because everyone has bought into the team concept. Ryan was voted as team captain by his teammates this year, so they realize his leadership qualities and rewarded him for his efforts."
As a sophomore during the 2012-13 season Hubley averaged 10 points, 6 rebounds, and 2 steals per game. He is currently averaging 10.5 points per game this year, along with seven rebounds and two blocks per game.
The players on the basketball team have been playing together for years, Hubley said, and they all play hard for each other.
"We're not afraid of going to the floor for a loose ball," he explained.
Hubley is hoping that the basketball team will make the playoffs, extending his excellent junior season. Then it will be time to start preparing for the next football season. In 2014, no fewer than three of Hubley's cousins—Brendan Chew, Travis Chew, and Caleb Truslow—could be playing football for Oxford. The varsity squad will be losing some key contributors from the 2013 team, but the returning players are determined to continue the success that the team has had.
Hubley's standout play on the field has already attracted the attention of some schools that could offer him scholarships. Pietlock said that the University of Delaware and Colgate have expressed interest and other schools will certainly follow.
Hubley is just looking forward to enjoying his senior season.
"I'm hoping that I hit a growth spurt, too," he said.
If he grew to six-foot-six or six-foot-seven, would that convince him to focus on basketball? Of course not.
He would bulk up a little and try playing defensive end.
After all, Hubley is a football player.