Oxford overcomes slow start to defeat Unionville, 60-40
01/21/2014 02:31PM ● By Acl
Oxford's Mustafa Mahmud drives the lane in a 60-40 victory over Unionville.
By Richard L. Gaw
Staff Writer
The only audible word that could be picked up by Unionville basketball coach Joe Kilpatrick during the first half of the Indian's loss to Oxford last Thursday – one that could be heard above the din of squeaking sneakers, cheerleaders and fans – was "Patience."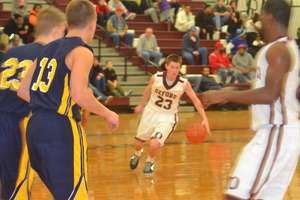 Opening the game with a slow, deliberate offense against a stronger Oxford team, Unionville took the Hornets out of their signature fast-break style for the entire first half, but as the second half unfolded, however, Kilpatrick's word was not matched in deed, as Oxford overcame a poor start to soundly defeat Unionville 60-40, in Ches-Mont American divisional play.
"I give a lot of credit to his (Kilpatrick's) game plan," said Oxford coach Sean Harvey. "He spread us out, forcing us to run a Carolina, four-corner offense. I don't think we were moving properly. They did a good job and they executed."
Opening the game in a zone defense, Unionville limited Oxford to just six points in the fist quarter, while executing a perimeter offense that quietly penetrated the Hornets' man-to-man defense. Following a give-and-go feed from Chad Rafetto to Matt Foster with 3:40 left in the first, Rafetto's three-pointer staked the Indians to a quick 7-4 lead, which was followed by a drive by Matt Godek to extend the lead to five at the end of the first quarter.
Two quick hoops by Godek in the second gave Unionville a 15-8 lead early on, but Oxford began to chip away at the lead, and layups by Miles Clarke and Aaron Sivels, and a buzzer-beating three-pointer by Dylan Dunn sent Oxford into halftime nursing a slim 19-17 lead.
As the third quarter unfolded, the wheels of Kilpatrick's offensive scheme came undone, as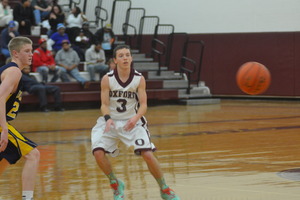 Oxford's shooting unleashed a barrage of scoring, highlighted by two three-pointers by Jordan Logan, and the presence of Mustafa Mahmud in the paint, who scored 6 points in the quarter. Meanwhile, the Indians were held to just 6 points in the third.
"I told them at halftime that we have to pick them up full court defensively, and get them out of that spread offense they were running," Harvey said. "We wanted to make them play faster than they wanted to play. It was all about tempo."
"We knew the pressure was coming, and it comes down to it, we struggled offensively in the third quarter and missed our first couple of shots," Kilpatrick said. "That deflated our defense a bit. They hit a couple of shots and before we knew it, they were up by 9 points, and we had to come out of our zone, and they really took advantage of it."
By the start of the fourth quarter, Oxford's up-tempo offense was now on full display, illustrated by fast breaks and outside shooting, not only from Logan, Clarke and Mahmud, but by reserve Josh Moseley, whose three-pointer with 2:30 left in the game gave Oxford a 55-34 lead.
The balanced Oxford attack was led by Logan's 11 points, and 10 points each from Clarke, Mahmud and Dunn. For Unionville, Godek and Rafetto had 8 and 7 points, respectively.
Despite the wide margin of victory, Harvey pointed to a continuing flaw in his club's game.
We need to have better starts," he said. "We need to start fast, and not have a slow first quarter like we did today. If you do that in the Ches-Mont, if you do that in the District one playoffs, you're going to end up losing games."
The win gave Oxford an 11-3 record on the campaign, and a 5-1 record in the American division. The Hornets hosted Coatesville on Jan. 18, and traveled to Octorara Area to face the Braves on Jan. 21. Unionville fell to 1-4 in the American, and 3-10 overall this season. The Indians traveled to Octorara on Jan. 18, and hosted Bayard-Rustin on Jan. 21.