Honoring King's legacy with a day of service
01/21/2014 01:55PM ● By Acl
Students sorted food donations for the Kennett Food Cupboard on Jan. 20 before packed boxes were loaded onto a tractor trailer.
By John Chambless
Staff Writer
The spirit of giving was alive at Unionville High School on Monday morning as hundreds of students turned a day off from school into a day of giving to the community.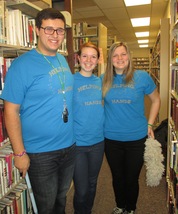 The Martin Luther King Day of Service brought out members of the National Honor Society, who were able to count their hours of service, as well as teens from Kennett and Unionville who just wanted to help out. At 8:30 a.m., after Unionville High School assistant principal Jim Conley led the crowd in some enthusiastic clapping, volunteer Dori Roper stood on a chair in the cafeteria and called for attention.
"The biggest request we have is for you to picture a family that doesn't have anything in their cupboards to eat," she told the teens. "You're handling their meal. Handle it with care. Be a good steward of all these donations, because you're feeding people who really, really need it."
Students also met at the school and took buses to other sites in the county, including Care of Chester County, Chadds Ford Elementary School, the Kennett Garage, and Mission Santa Maria. Members of St. Michael's Lutheran Church mingled with the student volunteers, teachers, administrators, and other people from the community as the frenzy of packing food boxes got underway.
Taking a brief break in the midst of the semi-organized chaos, Jim Conley said, "There's a huge turnout this year. We had 190 students, and over 40 adults, with more walk-ins. It's a good problem to have. We also have four off-campus sites, and next year, I want to try to get us to seven off-campus sites. That's the goal."
Later, Dori Roper said the goal every year is to finish and lock the truck's doors at about 1 p.m. "Last year we loaded 400 cases of food," she said, "and we've been growing that number by about 100 cases every year."
This year, 1,500 pounds of fresh carrots, potatoes, garlic, lemons and limes were donated by a merchant at the Booth's Corner Farmers Market at cost. The money to buy the food came from the Longwood Rotary, and was matched by an anonymous corporation, Roper said. That $2,000 total will be spread out over the next few weeks to keep the shelves full at the Kennett Food Cupboard.
Elsewhere in the school district on Monday morning, young students from Chadds Ford Elementary School made crafts for hospitalized children, students from Hillendale Elementary took part in a soup kitchen and made bag lunches, students from Pocopson Elementary made fleece blankets and bookmarks, and students from Patton Middle School volunteered at the Pocopson Home or helped clean up Anson B. Nixon Park.
At the other end of Chester County, students from Oxford High School's Helping Hands Community Service Club also fanned out across the area to volunteer on Monday morning. At the Oxford Public Library, students Samantha Williams, Brianne Bennett and Keenan Bowers got an orientation from staff member Linda Teel and then got to work dusting bookshelves and straightening books and DVDs. Bowers said the Helping Hands Club is very popular at the school, with more than 100 members who volunteer throughout the year.
On Monday, there were also student volunteers playing games with children at the Oxford Community Preschool, cleaning the Oxford Senior Center and Church of the Sacred Heart, doing office chores at Oxford Mainstreet, Inc., cleaning and straightening items at the Neighborhood Services Thrift Shop, and cleaning the Lighthouse Youth Center in Oxford.
The Spirit of Giving Luncheon to benefit the Oxford Neighborhood Services Center capped the day's events in Oxford, with an elegant lunch in the Oxford High School cafeteria from 11 a.m. to 2 p.m.