Avon Grove slips past sluggish Kennett, 51-46
01/15/2014 08:05AM ● By Acl
Avon Grove's Quinlin Parsons sinks one of his 10 free throws in the Red Devils' 51-46 win over Kennett.
By Richard L. Gaw
Staff Writer
Avon Grove varsity basketball coach Jesse Drelick knew prior to last Friday's game against Kennett that the key to beating the Blue Demons, his club would need to remove Jackson Hyland, Yohsuke Kobayashi and Vaughn Jenkins from the offensive equation. As Drelick said moments after Avon Grove defeated Kennett 51-46, two out of three ain't bad.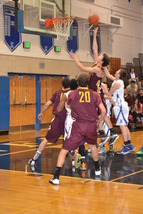 Although they surrendered 21 points to Hyland, who has been averaging close to that figure this season, Avon Grove's pressing zone defense held Kennett to six points each in the second and third quarters, while limiting Kobayashi (8 ppg) to 4 points and Jenkins (9.5 ppg) to a mere free throw.
"We did it with our defense tonight," Drelick said. "Anything we got offensively came from us playing good defense. The zone hurt us early on, but our defense was making opportunities for us on the offensive end."
If it was Avon Grove's decision to live or die by the zone, early indications read that the Red Devils were headed for a quick death, as Kennett scored 20 points in the first quarter, led by two 3-pointers by Hyland and a last-second driving layup by Kobayashi at the buzzer. Meanwhile, Avon Grove managed to stay in the game early on the outside shooting of Eric Ligda and Andrew Colagreco, whose 3-pointer with two minutes left in the first brought Avon Grove to within one.
By the second period, however, the effects of Kennett's 56-48 overtime victory over a stubborn Unionville team the night before began to show in the quality of their play. Implementing a stall offense, a 3-pointer by Matt Kelly extended Kennett's lead to 23-16 with 5:20 left in the second, but the shooting ended there. Kennett went 1-12 in shooting during the second quarter, while Avon Grove pecked away at the slim lead by penetrating Kennett's zone and forcing fouls.
A 3-pointer by Mike Boulden accounted for Kennett's only points in the first five minutes of the third quarter, while Quinlin Parsons' hook shot in the lane with 3:00 left in the quarter – and subsequent free throw after being fouled – gave the Red Devils a 31-30 lead. A minute later, Colagreco's steal led to foul and another free throw to extend the Avon Grove lead to 32-30, but the game was tied at the end of the quarter on a drive by Hyland.
Well into the fourth quarter, both teams juggled ownership of the lead. With 6:28 left, a break-away layup by Ligda gave Avon Grove a brief 34-33 lead, but on Kennett's next possession, Jenkins fed Connor McGlone in the paint to give the Blue Demons a short-lived 35-34 lead. Colagreco's 3-pointer and two jumpers by Ligda gave Avon Grove a 43-35 lead with less than four minutes remaining in the game. At this point, Avon Grove's defense went into overdrive, holding Kennett to one-shot possessions while extending the lead on one-and-one free throws by Parsons, whose in-bounds basket with 1:20 left put the game out of reach.
Parsons led Avon Grove scorers with 20 points, with 10 coming from the free-throw line, while teammates Ligda and Colagreco scored 13 and 12 points, respectively. With the victory, Avon Grove improved its overall record to 4-7 and its Ches-Mont American record to 2-3 on the young season. The Red Devils faced Downingtown West on Jan. 14, and travels to East on Jan. 16. Kennett, meanwhile, dropped to 7-5 overall and 3-2 in the Ches-Mont American division. The Blue Demons visited Octorara on Jan. 14, and will play at Bishop Shanahan on Jan. 17.