Arts Alliance shows the versatility of clay
01/07/2014 06:33PM ● By Acl
'Blue Serving Bowl' by Corey Johnson (left) and 'Pair of Jugs' by Samantha Diamond.
By John Chambless
Staff Writer
Less is more at the Oxford Arts Alliance's new show, "Clay at WCU," which opened on Jan. 3. The show is sparingly arranged and beautifully lit, giving each piece room to breathe and be appreciated.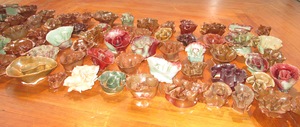 In the front window, Kristine Moore's "Lovely Ladies" is a group of cabbage-like glazed clay pieces that look like vegetables in a garden. Michael Callaghan's untitled installation makes a gently arc on the floor. It's a curve of sand studded with conical raku shapes, as if we're seeing an archaeological site that's half-unearthed. The hues and crackles of each raku vessel are unique, making each one mysterious and intriguing.
Amy Zofcin makes stoneware license plates into a wall-hung platter and a globe ("Rounding the States"), and Andrew Snyder's "The Problem With Function" is a zen-like composition of two concrete slabs, two porcelain bowls and two red marbles that explores ideas of positive and negative space -- or perhaps presence and absence – with admirable simplicity.
Carla Pastore's two "Red Oxide" mixed-media wall pieces play off the yellow-orange oxidation on the metal rebar sections in each piece. Pastore echoes the colors in the surrounding abstract shapes, as well as the oxidized metal disc whose shape is repeated in the works.
Sara Hansen shows a tiny, gracefully made porcelain teapot, and, at the opposite end of the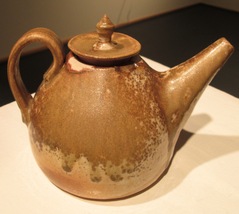 scale, West Chester University's John Baker shows a monumental bowl-shaped piece, "Oriental Change," that's centered on four fragile threads that are embraced and expanded upon by the layers of paint and varying textures around them. Baker's "Ark" is a slightly abstracted version of its namesake, perched on a base of flat stone shapes and holding a hollow space at its center that beckons you to come over and peer inside.
From the practicality and simplicity of "Blue Serving Bowl" by Corey Johnson and "Pair of Jugs" by Samantha Diamond, to the oddly non-practical "Ray-Gun Tea Set" by Francesca Phillips, the exhibit touches on the spectrum of what clay can do in the hands of an artist.
"Clay at WCU" continues at the Oxford Arts Alliance (38 S. Third St., Oxford) through Jan. 31. Gallery hours are Tuesday, Thursday and Friday from 9 a.m. to 2 p.m., and Saturday from 11 a.m. to 4 p.m. Call 610-467-0301 or visit www.oxfordart.org.