Three new members join Oxford Borough Council
01/07/2014 06:07PM ● By Acl
Gary Tozzo
By Steven Hoffman
Staff Writer
Oxford Borough Council reelected Ron Hershey as its president and welcomed three new members—Randy Grace, Paul Matthews, and Gary Tozzo—at the reorganization meeting on Jan. 6.
In addition to Hershey, Grace, Matthews, and Tozzo, the council for 2014 includes Randy Teel, John Thompson, and Sue Lombardi.
The reorganization meeting began with Mayor Geoff Henry administering the oath of office for the newly elected members.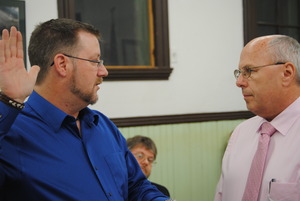 When it came time to select a president, Lombardi nominated Hershey for the leadership post that he has held for the last two years. Thompson seconded the nomination. Hershey was the lone nominee and council voted 6-1 in favor of the appointment.
Next, Grace nominated Thompson for council vice president. He, too, was the lone nominee, and council unanimously approved the appointment.
Matthews was selected as the president pro tempore of borough council. As such, he will conduct the meetings in the absence of the president and vice president.
With three new members joining council at one time, it won't take the newcomers long to put their stamp on the borough council's activities.
Grace, a resident of the borough since 2001, said that he wanted a seat on borough council after serving on his homeowners' association. That duty allowed him to help improve things for residents in a neighborhood, and he believes that serving on council will allow him to help make things better in the community.
"I really want to get our taxes under control," said Grace, who works as a project leader for a software firm in Exton, Pa.
Tozzo said that he sought a seat on borough council to become more involved with local government. He has lived in the borough since 1999. A sales and marketing manager in the produce industry, Tozzo said that one goal for the coming year is to analyze how taxpayer money is being spent.
"We want to take a look at spending and make sure that we are spending money as efficiently as we can," he said.
Matthews, a resident of Oxford for the last 14 years, said that he ran for borough council as a way to work collaboratively with others to improve the community.
"To make a change, you have to get involved," he said.
One of his goals on council is to improve communication and boost community involvement as a way to help revitalization efforts.
In other business at the reorganization meeting, James Sumner was appointed to serve as the chairman of the Vacancy Board for another one-year term. Council also approved a variety of committee appointments and assignments for 2014.