Kennett defeats Oxford, 45-31
01/07/2014 05:07PM ● By Acl
Jess Hussey led all scorers with 14 points.
By Steven Hoffman
Staff Writer
When the Kennett Blue Demons posted 12 points in the first quarter against Oxford last Thursday, coach Vincent Cattano took it as a very positive sign.
"We have been averaging 5.8 points in the first quarter," Cattano explained after Kennett capitalized on the good start and defeated Oxford, 45-31, thanks to a balanced attack that saw the Blue Demons play well offensively and defensively.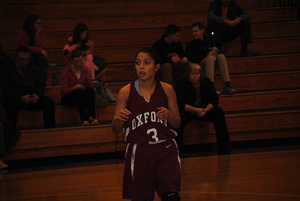 The offensive attack was bolstered by senior guard Haley DeVoe and junior forward Aimee Armitage, who combined to score 21 points for the Blue Demons. Cattano said that it was a tremendous boost to get this kind of contribution from DeVoe and Armitage because opposing teams have been focusing on stopping Kennett's standout sophomore forward, Jess Hussey. Hussey led all scorers with 14 points, but DeVoe netted 12 points and Armitage added 9 points.
"The key was Aimee and Haley," Cattano said. "They really stepped up for us."
Another positive for Kennett was the team's consistent play through the course of four quarters against Oxford. There was no let down, and no period of struggle. After Armitage knocked down a three-pointer with 4:30 left to play in the first quarter, the Blue Demons went on an 11-0 run. By halftime, Kennett had built a 25-15 lead.
Oxford closed to within six points briefly in the third quarter, but a basket by Hussey and a three-pointer from Shannon Turner quickly pushed the lead back up to 11 heading into the fourth quarter.
Oxford continued to battle on both ends of the court, but the Hornets were hampered by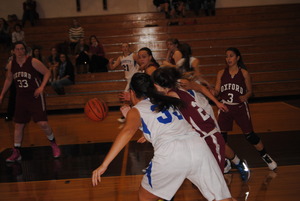 turnovers and simply couldn't find away to make a run. The game ended with Kennett holding its biggest lead of the game—14 points—at 45-31.
Cattano said that this was probably the most complete game that his team has played all season.
"For four quarters, it was probably our best effort," he said, explaining that his team has struggled with slow starts all season. "We talked about being steady so it was good to see the steady play throughout the game."
The win improved Kennett's record to 4-6 overall and 2-1 in the league, and Cattano contributes his team's improvement to the challenging non-league schedule that Kennett has faced up to this point.
"We have a tough non-league schedule. It's nice to be 2-1 in the league now. The kids are playing hard," Cattano said.
Despite falling to 3-7 on the season, Oxford coach Matthew Messick said that he took away some positives from the effort.
Sophomore Devon Nask led the Hornets with 12 points, and is an emerging talent for Oxford. Nask battled back from a Lisfranc injury that cost her all but a few games during her freshman year.
"We've been really working with her and she's really starting to figure some things out," Messick explained. 
Freshman Grace Hennessey is starting to contribute on varsity as well, adding some height to Oxford's lineup that relies heavily on Melanie and Miranda Kempf in the front court.
Senior point guard Alex Fernandez provides leadership for the squad.
"I really liked what Alex Fernandez did for us, today" Messick said. "She was doing a little bit of everything, grabbing rebounds, going after loose balls. She's playing like a leader out there."
Messick also pointed out that Oxford did a much better job of rebounding as the game went on. The Oxford coach said that he knows his young team is going to experience some growing pains and he wants them to learn from their mistakes as the season progresses.
"Defense is usually a strength for us and today it wasn't," he said. "We also have to do a better job of controlling the ball."
Messick said that he wants his team to work hard and to show improvement as the Hornets start facing some league opponents for a second time.
"Any game in this league is going to be a battle," he said. "We're looking forward to getting another chance at some of these teams. If we can make some improvements and turn some things around, these teams will see a different Oxford team the next time." 
With games coming up against some of the Ches-Mont League's top teams, including West Chester Rustin and Bishop Shanahan, Cattano said that he's looking forward to seeing his team put to the test to see how far they've come.
"We have a stretch of games where we have to step up," Cattano said. "Our players work hard in practice, play hard, and we enjoy the challenge." 
*** 
Kennett 12 13 9 11--45
Oxford 6 9 8 8—31