Making the most of their musical moment
12/26/2013 10:54AM ● By Acl
Three for Five, a Kennett Squuare-based, ska-influenced band, will play the Kennett Flash on Dec. 27
By Richard L. Gaw
Staff Writer
Even before you dig into this article, way before you get to the last sentence having learned about a band of young local musicians, most of whom attend or attended Kennett High School, you first need to know that two days after Christmas, this band will practically tear the roof off the Kennett Flash.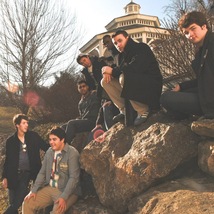 Sure, you can avoid the show on Dec. 27 and stay home and be safe or, like the many in the audience that night who've become second- and third-time audience members, you join an impromptu dance with the band's horn section. You can share the microphone with lead singer Matt Madonna, or bob your head along to the bass rhythms of Jason Kim or the guitar of Jake Zenisek, or marvel in the no-holds-barred thrashing of drummer Jack Weber. Theie sound is infectious, and they are becoming one of the most talked-about musical acts in the area, and they are called Three for Five. You've been forewarned. It's your call.
Since they formed a year ago, Three for Five – named for a Wawa advertisement – has defied the lazy titles given to most bands and slipped beneath the radar of definition. Backed by a horn section of Toni Adeyato, Jeff Hauptschein, Joey Kitching, Bryan Moriarty and Sanjay Yeleswaram, Three for Five combines the influences of ska, reggae, jazz, punk, big band and garage rock to form an eclectic mish-mash of sounds. They've already cut three original songs, and this March, they will record their first EP at a studio in Tabernacle, N.J. This summer, they plan to embark on a mini tour of clubs and venues not only throughout the area, but in and between New York City and Boston.
"We're not making music to become famous," Madonna said. "We're not trying to become the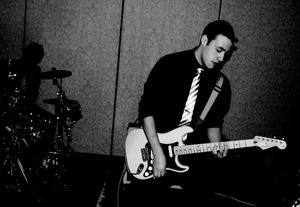 next 'A' list celebrities. We're going to try to get as much as we can out of our music, and do as much as we can while we're in the position we're now in. We've been extremely fortunate for everything that's happened to us in the year we've been together. When we initially began the group, it was just intended as an excuse to be around our friends and make music that they liked."
For Three for Five, the original ideas to start the group began in the hallways of Kennett High School at the end of 2012. Kim and Zenisek had been in a short-lived garage cover band called Sad Llama in their junior years, but by the time they were seniors, Zenisek had begun to write original songs; in particular, "If You're Gonna Buy Me Over, Buy Me Over," a song about a loved one's battle with drug addiction.
He heard different sounds when it came to the song that lent themselves to a more rich orchestration.
"We saw a New Jersey band called No Such Noise at a festival in Anson B. Nixon Park and we were blown away, because we'd never seen a band with horns in it," Zenisek said.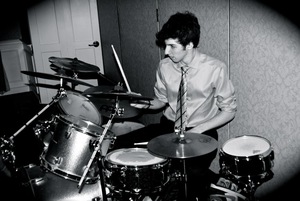 With that influence in mind, Zenisek and Kim had added the supporting players to their cast. The first rehearsal, held at Weber's house, was, in their words, "awful." They didn't know how horn turning worked. Their ears hurt from the noise. At their second practice, the diversity of their instruments began to meld. By the spring of this year, they found themselves preparing to play their first live gig, at the Garage Youth Community Center in West Grove.
"It was the first time we unveiled our sound, our songs," Kim said. "During the soundcheck, we sounded awful. We were scared. We never played live before."
That was nearly 40 shows ago. In the slim year they've been together as a band, Three for Five have become regulars on the local music scene, squeezing in gigs between Kim's freshman year at Northeastern University in Boston and Zenisek's first year at Temple University. They played gigs at Fennario's in West Chester, at small clubs in Philadelphia, and at Mojo Main in Newark, including a show in November that Kim flew home from Boston for, just so he could play.
If the end result of the band's sound resembles a blend of reggae, punk, ska and jazz, then its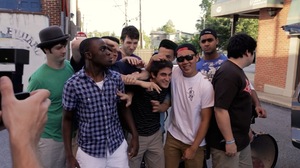 early beginnings usually begin with Zenisek, who serves as the band's chief songwriter. (Madonna has also begun to write songs for the band.) Although rehearsing and performances are now relegated to college breaks, the band is kept fresh by means of recording technology. Typically, Zenisek will send lyrics and a rough chord progression to Kim, who will expand on Zenisek's ideas and create a musical arrangement for a song. He'll then send a transport file to everyone else in the band -- a sketch equivalent complete with sheet music for the horn players -- all of which will eventually become the final piece.
Rehearsals, held at Weber's house in Kennett Square, give everyone a chance to offer creative input. "It's an awesome time for us to sit around and ask, 'Why don't we do this here?' or 'Let's add something here,'" Kim said.
Their strong alliances to the band notwithstanding, the primary focus for Three for Five is a short-term one, which they imagine will be spent writing and recording, as well as continuing to test the waters of playing live. In the long term, however, the band knows that the chances of a record company offering them a recording contract are between slim and none. Even if a recording contract were to appear, each of the members said they would have to think long and hard about whether to continue the band.
Subsequently, Zenisek is studying accounting in college, Madonna is looking to eventually enter the business world, and Kim wants to study anesthesiology and attend medical school.
So, unlike many bands who place all of their chips on a million-to-one chance, the burden of achieving fame and fortune is non-existent with Three for Five. Sure, they'd like to think that their recordings will get them enough credibility to be able to open for larger bands at venues like The Theatre of the Living Arts and the Electric Factory in Philadelphia -- all within the realm of possibility -- but most importantly, they're just looking for a creative outlet that enables them to continue to break the fourth wall of the stage and dance with the people who've come to see them.
"(On the 27th) I want the audience to see that kids from Kennett Square are doing something great, small-town kids who have organized themselves and made something creative," Madonna said. "We want them to see that we just really like what we do."