KAU Little League winners named
12/12/2013 06:51PM ● By Acl
The Lifetime Achievement award winners are the Hoge Family: left to right Kathy, Fred, Kaitlyn, Colleen,Timmy, Fred Jr.
The KAU Little League recently selected several players and parents as its 2013 District 28 award winners. 
Each year, the district -- which includes Little Leagues from throughout Chester County -- recognizes players, parents, and other volunteers from every league for their athletic achievements, sportsmanship, and dedication to their respective teams and organizations. KAU Little League players, who range in age from 4 to 18, attend primarily schools in the Unionville-Chadds Ford and Kennett Consolidated school districts.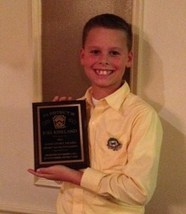 Joel Kirkland, a 7th grader at Charles F. Patton Middle School, was named the baseball "Sportsperson of the Year" for his leadership and sportsmanship.  Kirkland has been named to several KAU District 28 All-Star teams and has played for the Knights travel team during his six years in the league. An avid roller hockey and basketball player, he is the son of Scott and Chrissy Kirkland of Pocopson Township.
Lauren and Sarah Dandorf, both of whom played in the KAU Majors' Division, were named "Sportspersons of the Year" for softball. Formerly of Kennett Square, they now live in Chicago.
Garrett Hall, a 2012 graduate of Kennett Area Senior High School, was named "Umpire of the Year" in a vote of the league's coaches.  A member of the 2013 KAU Big League team that won the Pennsylvania State Championship, Hall played baseball for nine years at KAU and was selected to several All-Star teams. Now a freshman at Shippensburg University, Hall is the son of Glenn and Patricia Hall of Landenberg. 
Fred, Kathy, and Timmy Hoge received a "Lifetime Achievement Award" for their dedication to the District 28 Challenger Division. The Challenger Division was established by Little League in 1989 so that boys and girls ages 4 to 18 with physical and mental special needs could play. Teams are assembled based on abilities, rather than age, and can include as many as 15 to 20 players and "buddies" who assist the Challenger players on the field, but whenever possible, encourage the players to bat and make plays themselves. The Hoges began their 17-year involvement in the local Challenger Division in 1995 when Timmy was 6, and served as the head coaches of the District 28 squad from 1998 through 2012.  The Hoge family lives in Unionville.
Doug Hostetler, the owner of Hostetler Electric in Kennett Square, was named the "Volunteer of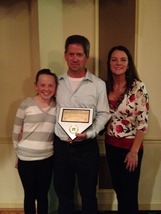 the Year." Hostetler has been a coach for both baseball and softball for a dozen years, and also uses his skill as an electrician to assist the league in completing many complicated lighting and wiring projects, such as the installation of scoreboards and field lighting. He and his family live in Kennett Square.