It's the story of Buddy the Elf!
12/12/2013 06:32PM ● By Acl
The delightful holiday show combines the storyline of the movie with singing, chorus lines, and amazing tap dancing.
By Kelinda Ganow
Special to the Chester County Press
"The best way to spread Christmas cheer is singing loud for all to hear!" 
What better way to get into the Christmas season than a night out with "Elf the Musical"? "Elf" the musical is playing at Walnut Street Theatre in Philadelphia through Jan. 5. It's the perfect Christmas gift, or an opportunity for a night out in the spirit of Christmas.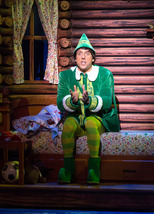 "Elf" follows the storyline of the classic movie with Will Ferrell starring in the title role. The musical has all of the essential jokes from the movie, such as, "Buddy the Elf, what's your favorite color?" And it has enough original content and new jokes to keep you laughing out loud throughout the show, even if you have seen the movie 100 times.
In true Philadelphia area spirit, Santa himself adds plenty of Philly specific jokes, referencing the next Eagles game and making fun of the Patriots. I always knew Santa was an Eagles fan. The musical also adds unexpected special effects to the live experience, bringing ice skating and flying sleighs to the stage.
Christopher Sutton, as Buddy, keeps you believing he is Buddy with his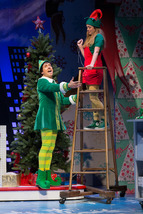 bubbly, optimistic portrayal of the character. It seems like a natural fit for Buddy to also be an amazing singer and dancer, and Sutton certainly does the part justice. 
Kate Fahrner, as Jovie, is vulnerable as the female lead, fighting with herself over falling in love. One of my favorite parts was when Kristine Fraelich (as Emily, Buddy's step-mother) and J.D. Triolo (as Michael, Buddy's brother) sing their duet in perfect harmony. And you cannot beat when Buddy and Jovie end the show in tap-dancing star jumps, with the ensemble behind them.
Whether you've seen the movie or not, you have to see "Elf the Musical." Don't wait any longer, book your tickets now!
For tickets and information, call 215-574-3550 or 800-982-2787. Tickets are also available by visiting www.WalnutStreetTheatre.org or www.Ticketmaster.com.