Two artists look at the land and the waters
12/12/2013 05:52PM ● By Acl
Peter Willard and Vicki Vinton are exhibiting original art at Bookplace.
By John Chambless
Staff Writer
For their dual show, "Lands and Waters," painters Peter Willard and Vicki Vinton have a wonderful balance of styles, and their show at Bookplace in Oxford is very satisfying.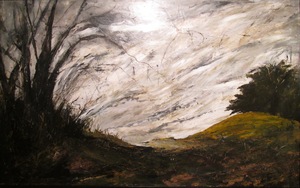 Willard, a Chadds Ford artist, has several large works that are aggressively painted, with textured surfaces that suggest furrows or windswept hillsides. "After Sandy" is a dramatic sweep of storm clouds and bare branches that definitely sets a mood. The large works have an impact, but Willard's smaller works are just as dramatic. 
Close up, his small pieces are smudgy and indistinct, but if you back up a few feet, they magically coalesce. "Winter Trail" is a bleak acrylic and watercolor landscape with a suggestion of a roof at the left edge. Up close, the roof is just a smudge of brown.
Similar magic is worked in the autumnal woodland scene "November Too," in which a lighter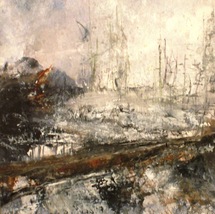 patch of color suggests a house, just barely visible among the trees. "11-11" is a view of field, tree line and clouds that shows beautifully applied swipes of color. 
Vinton's work is all water-inspired. First, there's "Crowd," a luminous painting of reflecting water and lily pads on black paper that absolutely glows. In another small piece nearby, a blue-green wash of hues is dotted with small smudges of orange-crimson that can be nothing but fish, swimming just under the surface of the water.
Vinton's smaller works on paper range from light-toned, sketchy views of leaf forms and shadows to dark, dense abstracts with expressive gestural elements. Her large diptych, "Passengers," is a placid expanse of summer green and gently flowing water. "Water Dancer" shows the legs of a ballet dancer, gingerly stepping on lily pads.
Arranged in the gallery space with a fine sense of balance and contrast, "Lands and Waters" is a  journey through the styles of two artists whose works complement each other with subtle grace. Don't miss it.
"Lands and Waters" continues at Bookplace (2373 Baltimore Pike, Oxford) through early January. Hours are Fridays from 1 to 4 p.m., Saturdays from 10 a.m. to 5 p.m., and Sundays from noon to 5 p.m. A reception with the artists is scheduled Dec. 15. For more information, call 717-951-6418.
"Lands and Waters" [4 Images]
Click Any Image To Expand