Arrowood selected as school board president in Oxford
12/12/2013 02:45PM ● By Acl
Donna Arrowood was selected to serve as the president for the next year by her colleagues on the Oxford School Board.
By Steven Hoffman
Staff Writer
The Oxford School Board selected Donna Arrowood as its president for 2014 during the reorganization meeting on Thursday, Dec. 5.
Arrowood has served on the school board for the last two years and is a key member of the district's Finance Committee.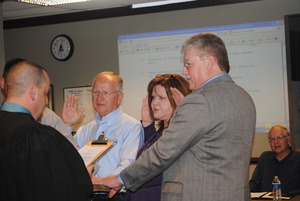 The meeting began with district justice Scott Massey swearing in of the four board members who won seats on the board in the November election—returning board member Stephen Gaspar and three newcomers, Lorraine Bell, Richard Orpneck, and Joseph Starcheski. They join Howard Robinson, Jason Brady, Joseph Tighe, Gary Olson, and Arrowood on the board.
Arrowood was the lone nominee for president and the board unanimously approved her for the leadership position. Gary Olson was unanimously elected to serve as the board's vice president.
After a tumultuous 2012 and a busier-than-normal 2013--the Oxford School Board conducted a superintendent search and hired David Woods as the new superintendent and brought in a number of new building administrators—everyone is hopeful that 2014 will be a calm one for the district.
"Hopefully, it's going to be a smooth year," said Arrowood.
The first major task for the new board will be developing a budget for the 2014-15 school year. A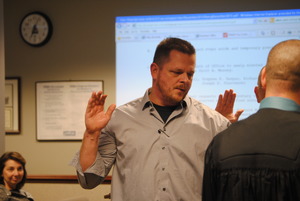 preliminary budget presentation will come later this month.  Arrowood has helped with the budget process since joining the board in December 2011, serving on the Finance Committee during that time. She chaired the committee in 2013.
Arrowood has deep roots in the Oxford community and close ties to the school district. She is a lifelong resident of Oxford and is a graduate of Oxford Area High School. Her mother was also an Oxford Area High School graduate. She has a brother who was a longtime chemistry teacher in Oxford. Arrowood herself retired from the school district after more than 30 years working mostly in the administration building in a variety of roles, ranging from tax collector to accounts payable employee to administrative assistant to the business manager.
Her extensive experience working for the school district helped prepare her for the duties of school board member, Arrowood said.
"It's really a natural extension of what I did," she explained.
Because Arrowood is now the board president, she will no longer serve as treasurer. Joseph Tighe was appointed for that position.
The only other item of business that the board dealt with at the reorganization meeting was to set the meeting dates for the next year. In a change, the board decided to hold work sessions on the second Tuesday of each month and the regular meetings on the third Tuesday. However, a combined work session and regular meeting will be held on Thursday, Dec. 19.