A bounty of art at Chadds Ford Gallery
12/04/2013 02:10PM ● By Acl
The Chadds Ford Gallery is packed with original art during the 'Christmas in Miniature' show.
By John Chambless
Staff Writer
The great thing about the Chadds Ford Gallery is that its four rooms are always packed with original art and prints by regional artists, but each year for the past 32 years, the owners go for broke in time for the holidays.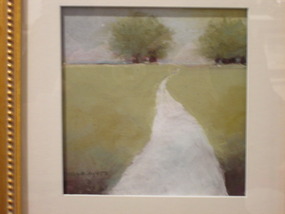 For the 32nd Annual Christmas in Miniature and Grande show, the front rooms are hung nearly floor to ceiling with small, original artworks by a nice range of artists. It's often said that an art show has something for everyone, but in this case, that might actually be true. There's not much aesthetic design to the show – it's an every-square-inch arrangement – but if you have time to browse, you'll find some very nice pieces.
Fitting with the gift-giving theme, the prices are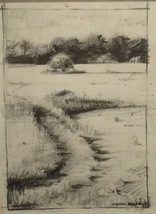 mostly kept low. There are the unavoidable paintings of Chester County barns and whimsical foxes, of course, but there are also several dazzlingly good pencil sketches by Mark Dance that may show historic homes and fields, but the artist's skill is compelling. Seemingly casual, these drawings convey a carefully rendered sense of place.
There are a few richly textured abstracts by Doug Hendershot, and some razor-sharp interior views by J.M. Standish. Collectors will love the small works by Paul Scarborough, but don't overlook the placid stillness of the oil landscapes by Janeice Silberman. There's something dreamlike and solemn in her "Grassy Rise" and "Grazing Lands." Likewise, Susan Myers has several strong landscapes, particularly "Stillness" and "Creekside."
At the higher end of the price scale are original works by Karl Kuerner ("Just Hatched"), and Anna B. McCoy ("Fur Hat") that are directly linked to the region's Wyeth mystique.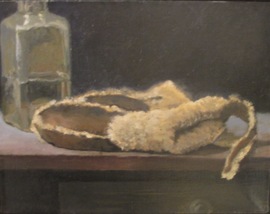 In the hallway are larger works (the "Grande" part of the show's title) that expand the views. Among the highlights are the sparing autumn scene "Late Afternoon Glow" by Barbara Neville, and the summery tone of the three oils by Jim Gears that expertly convey the pale palette of an August afternoon.
In a show with this much to offer, the pieces will be removed as they're sold and other works by the same artists will take their place. So with the caveat that things shown in this review might not be available when you visit, there's certainly going to be enough to warrant a trip – or several trips – to take everything in. You won't be disappointed.
The 32nd Christmas in Miniature and Grande show opens on Dec. 4, with extended hours from 1 to 8 p.m. It continues through Dec. 31. Hours are Tuesday to Saturday from 10 a.m. to 5 p.m., and Sunday from noon to 5 p.m. Call 610-388-2412 or visit www.awyethgallery.com.
32nd Annual Christmas in Miniature and Grande Show [4 Images]
Click Any Image To Expand