Gaerity is new Avon Grove School Board president
12/04/2013 12:53PM ● By Acl
Brian Gaerity was selected as the president of the Avon Grove School Board on Monday night.
By Steven Hoffman
Staff Writer
On the same night that Brian Gaerity was sworn in as an Avon Grove School Board member, he was also selected by a majority of his peers to serve as the president of the board for 2014.
"It is an honor to be elected president of the board. I look forward to working closely with everyone on the board," Gaerity said after the conclusion of his first meeting as president. "Luckily, there are experienced members on the board and I think that will help a lot."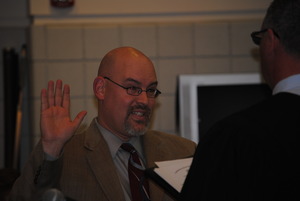 During the December 2 reorganization meeting, Gaerity, Ed Farina, and Patrick Walker were the three new members to take the oath of office while incumbent school director Pattie Lyons was also sworn in as she begins her fifth term on the school board.
The recently elected members join Charles Beatty III, Herman Engel, Donald Needham, William Sites, and Bonnie Wolff on the school board.
Lyons said that she's looking forward to the challenges ahead as she begins her 17th year as a school board member.
"I think we have a great new board that will be a cohesive group," Lyons said. "We have a lot of big issues, but I think we'll be able to work together well. I'm excited."
Although Gaerity is starting his first full four-year term on the school board, he did previously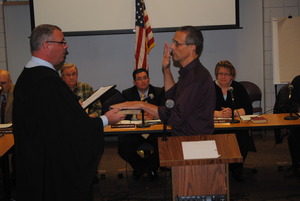 serve as a member of this board from April 2011 through December 2011 when he was appointed to fill a vacancy.
Gaerity was elected as the president by a 5-4 margin over Needham after he was nominated by Lyons. Lyons, Farina, Walker, and Engel voted along with Gaerity in the majority. Needham, who was nominated by Sites, received support from Sites, Beatty, and Wolff.
Once Gaerity was selected to serve as president, the board's next action was to elect a vice president. Wolff, who previously served as president, was unanimously elected for this position.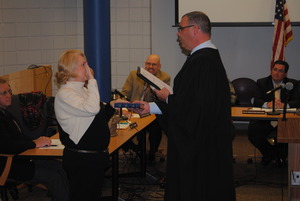 Gaerity said that it will be extremely helpful to have Wolff, the previous president, serving as the vice president as the board tackles a number of major issues, including the 2014-15 budget, a new teachers' contract, and the pact for support staff.
"There's a lot going on that will require the full attention of the board," Gaerity said.
With all the business of the reorganization meeting taken care of, the board then held its regular school board meeting.
The school board approved the appointment of Loree M. Lonsinger as the business manager of the Avon Grove School District effective Jan. 18, 2014.
Students from the Fred S. Engel Middle School presented a 10-minute video that showcases the positive features of daily life at the school. The video earned rave reviews from superintendent Dr. Christopher Marchese and school board members.