Friends of Hockessin Library hold used book sale
11/20/2013 02:11PM ● By Acl
The Friends of the Hockessin Library will be holding a book sale from Jan. 23 to 26.
The Friends of the Hockessin Library annual book sale returns to the Hockessin Memorial Hall from Jan. 23 to Jan. 26. There will be more than 60,000 books for sale at bargain prices. Many returning buyers have called this sale the best on the East Coast.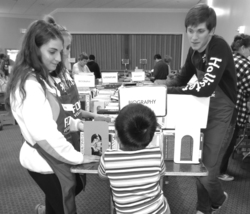 There are 42 categories for hardbacks and ten for paperbacks. Most hardback books sell for $1, and most paperbacks are 50 cents. There are premium and collectible sections where prices are somewhat higher.
Volunteers are welcome. It takes an estimated 1,300 volunteer hours to make the sale a success.
Proceeds support the library in areas that county or state funds do not. The Friends have installed a reading garden, supported children's and adult summer reading programs, purchased equipment and furnishings, provided staff support, hosted special events, funded $15,000 worth of e-books and funded scholarships for higher education.
For more information, visit www.FriendsoftheHockessinLibrary.org.