'Elf' at the Walnut Street Theatre is hilarious take on new holiday classic
11/20/2013 02:04PM ● By Acl
A new production of the Broadway family musical "Elf" will deliver hilarity and good cheer this holiday season at the Walnut Street Theatre in Philadelphia. 
"Elf" is the tale of Buddy, a young orphan who mistakenly crawls into Santa's bag of gifts and is transported to the North Pole. Buddy is raised unaware that he is actually a human, until his enormous size and poor toy-making abilities cause him to face the truth. With Santa's permission, he embarks on a journey to New York City with dreams to find his birth father and discover his true identity.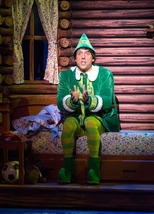 "Elf" had its Broadway premiere in November 2010 and ran through the holiday season. Its success led to a return engagement on Broadway in November 2012, along with a national tour. "Elf" is based on the 2003 New Line Cinema film of the same name, starring Will Ferrell and written by Philadelphia native David Berenbaum.  
Marc Robin is the director and choreographer for the production at the Walnut Street Theatre. His numerous Walnut Street Theatre credits include the popular 2013 production of Meredith Willson's "The Music Man," Rodgers and Hammerstein's "The King and I," Irving Berlin's "White Christmas," and Mel Brooks' "The Producers."  Robin is the artistic director of the Fulton Opera House in Lancaster, Pa. He has staged more than 300 productions at theaters across the country and has been the recipient of numerous awards.
Christopher Sutton transforms from one "Buddy" to another, having last been seen on the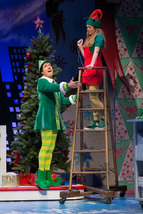 Walnut's stage as Buddy Holly in "The Buddy Holly Story." The jolly Bill Van Horn joins the production as Santa Claus. The Walnut welcomes back some favorite leading ladies with Kate Fahrner ("Grease") as Jovie, Kristine Fraelich ("Evita") as Emily and Cary Michele Miller ("Peter Pan") as Deb. Charles Pistone ("Love Story, the Musical") returns to the Walnut as Walter Hobbs, Paul L. Nolan ("An Ideal Husband") as Mr. Greenway and Fran Prisco ("The Music Man") as Macy's manager. 
The ensemble includes Joey Abramowicz ("The Music Man"), Maggie Anderson ("White Christmas"), Sonny Leo ("Forbidden Broadway's Greatest Hits"), Ben Michael ("Plaid Tidings"), Ellie Mooney ("The Music Man"), Rommel Pierre O'Choa ("The King and I"), Peyton Royal ("Peter Pan"), Megan Schmidt ("White Christmas") and Michael Warrell ("Grease"). Joining them are Walnut newcomers Sara Brophy, Samantha Brown and Janet Rowley.
The Walnut welcomes an extended cast of children, which is different from previous productions of "Elf" at other theaters. The youngest members to spread holiday cheer are all local to the Philadelphia area. J.D. Triolo ("The Music Man"), of West Chester, plays Michael Hobbs, along with his alternate Tyler Hentz ("The Music Man") of Doylestown.  Boy on Santa's Lap will be shared by Jared Brito ("The Music Man") of Philadelphia and Chris Brodbeck of Langhorne Manor.  The children's ensemble includes: Jonathan Block, Kurttis Morency and Sadat A. Waddy of Philadelphia; Cameron Flurry of Newtown; Alexis Gwynn of West Chester; Rebecca Hunchak of Springfield; Gabrielle Schoener of Chalfont; Hannah Backal of Voorhees; Vincent Crocilla of Vineland; Lisa Diaz of Southampton, N.J.; Tierney Howard of Moorestown, N.J. and Cambria Klein of Haddon Heights, N.J.
"Elf" runs at the Walnut now through Jan. 5.  For tickets and information, call 215-574-3550 or 800-982-2787. Tickets are also available online by visiting www.WalnutStreetTheatre.org or Ticketmaster.