Pechin's 5 TD passes lead Unionville to 70-24 victory
11/06/2013 05:48PM ● By Acl
Through a heavy fog, the Unionville Indians defeated the Oxford Hornets 70-24, to earn a trip to the Division One football playoffs.
By Richard L. Gaw
Staff Writer
In weather, fog, such as the 75-yard-long enveloping mist that hung over last Friday night's football game between Unionville and Oxford, happens when humidity reaches 100 percent and water, with no where to go, condenses into tiny liquid droplets in the air.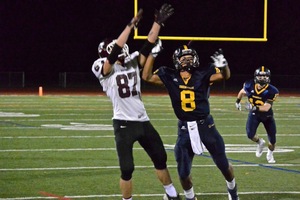 In football, a rout happens when one team completely dominates its opponent on both offense and defense, stifling nearly every attempt at scoring. By the end of Unionville's 70-24 blowout victory over visiting Oxford, in which Indian quarterback Alex Pechin tossed 5 touchdown tosses and 298 yards in passing, the fog had not lifted but Unionville's playoff season had officially begun.
After jumping out to a 7-0 lead on Pechin's 54-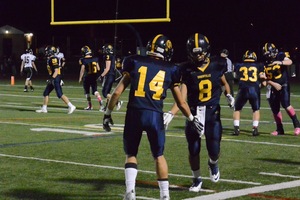 yard TD strike to Elan Walsh with 4:39 remaining in the first quarter, Oxford went ahead in the second quarter, on a 27-yard field goal by Hornet kicker Dylan Dunn, and a touchdown run by halfback Zach Deasey on the ensuing kick-off with 11 minutes left in the quarter. On its next possession, Pechin connected with Brendan Boyle on a 43-yard strike, which was followed by two carries by running back Garrett Scargill, the last of which was a four-yard TD plunge with 9:11 left in the half. As halftime neared, two screen play touchdown passes to running back Dom DiBiaggio and a 12-yard TD run by Scargill pushed Unionville's lead to 35-10, answered only by a 98-yard kick-off run by Oxford's Mustafa Mahmud with four second remaining in the half.
Given that the game took place one day after Halloween was not lost on irony, given that in its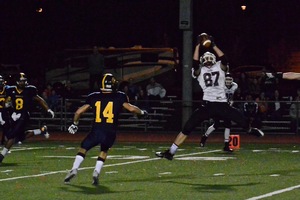 two previous games, Pechin showed that he was capable of wearing different masks. As the second half unfolded and Pechin continued his aerial assault on Oxford, his performance was completely unlike the one shown in the Indians' 21-7 victory over Great Valley the week before, when he passed only six times, nor was it similar to his performance in a 34-20 defeat to West Chester-Rustin, when despite throwing for 200 yards, he did so under heavy rushes the entire game.
As the second half got underway, Pechin again went to the air, and on Unionville's first possession of the third quarter, he connected with receiver Chris Koehler on a 28-yard touchdown pass with 6:55 left in the period. A minute later, Koehler answered his first touchdown with his second, when he picked off an Ethan Herb pass and ran 46 yards for the score, extending Unionville's lead to 49-17.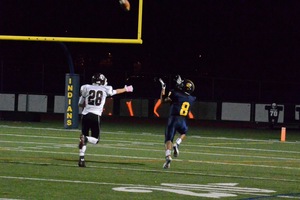 Oxford got back on the board late in the third quarter when Herb, scrambling to avoid being tackled, connected with Mahmud at the Oxford 40 yard-line, and watched as Mahmud scampered 60 yards for the touchdown with 3:04 left in the quarter, which turned out to be the Hornets' last score of the game.
After a 15-yard penalty gave Unionville the ball on its own 15-yard-line, running back Austin Hoffman-Reardon took a Pechin hand-off in for the score with 1:54 left in the third, which was followed by a Pechin 12-yard roll-out TD strike to tight end Dan McClaskey at the start of the fourth quarter that gave the Indians a 63-24 lead. With four minutes remaining in the game and Pechin now on the bench with a 63-24 lead, Brandon Boon took a hand-off from backup quarterback Brendan Boyle for a 33-yard run that tacked on a final Unionville touchdown.
For Oxford (7-3, 3-3 in the Ches-Mont American), the loss may have dashed its playoff hopes but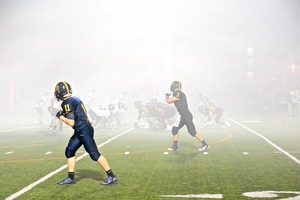 it didn't diminish the accomplishments made by the Hornets this season, who under coach Mike Pietlock secured their first wining season since 1997. For Unionville (8-2, 5-1 in Ches-Mont American), the victory assures them of a high-seed position in the 16-team District One playoff picture this coming weekend.
"This (victory) is big because it gets us back in the playoffs, and that's always been one of our goals," Unionville Head Coach Pat Clark said. "Our kids have worked very, very hard this year, and I'm very proud of them."
Clark said his club has come a long way to rebound from their loss to West Chester-Rustin two weeks ago. "When you win a game, you're not as good as you think you are, and when you lose, you're not as bad as you think you are," he said. "(Despite the loss), I don't think we were that far off. I think our kids just regained their focus."