Members exhibit at Oxford Arts Alliance
11/06/2013 04:46PM ● By Acl
'Her Master's Voice' by Karen O'Lone-Hahn.
By John Chambless
Staff Writer
The members of the Oxford Arts Alliance are getting another chance to shine at the Second Annual Members Show, which opened last weekend and continues through Nov. 26.
There's a nice range of styles in the show, highlighted by Karen O'Lone-Hahn's paintings of multicolored cows, particularly "Her Master's Voice," in which a pink, toy-like cow regards the horn of a Victrola.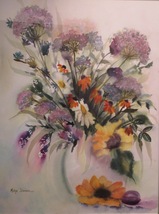 "Jaded" is a softly painted floral watercolor by Midge Diener, and there are several of Polly Davis Chalfant's always intriguing hand-tinted works with animals in storybook-like settings.
Larry Denver's gnarled tree trunk side table with a carved lily pad top is full of sinuous lines, and Anthony Masserone's three wood pieces have a sentimental spirit and an off-kilter point of view that make them very interesting.
Diane Blanche Stirrat's three small paintings are very skillfully done. "Field No. 1" has a dramatic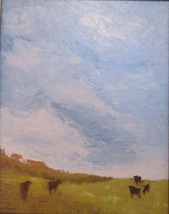 cloud bank over a golden yellow hillside, and "Five Cows" has a dramatic sweep of wispy clouds over the five tiny animals.
Anita Bower's photo, "Amish Girl," is a sensitive depiction of a barefoot girl in a blue dress, looking away from the viewer through an open door, with a pair of well-worn work boots resting on the floor next to her. Lou Werse has a fun, stylized painting, "Mystery Woman," that looks like it dropped in from a 1920s advertisement.
The Arts Alliance holiday show opens next month, but that doesn't mean you have to wait until then to do a little Christmas shopping. There are plenty of pieces in this exhibit that would be welcome additions to anyone's home.
The Annual Members Show continues through Nov. 26 at the Oxford Arts Alliance (38 S. Third St., Oxford). Gallery hours are Tuesday, Thursday and Friday from 9 a.m. to 2 p.m., and Saturday from 11 a.m. to 4 p.m. Call 610-467-0301 or visit www.oxfordart.org.