The neighborhood place on the other side of town
10/31/2013 01:15PM ● By Acl
Mike Stiglitz, left, and business partner Ben Muse, at the newly-opened Two Stones Pub at the Shoppes of Longwood in Kennett Square.
By Richard L. Gaw
Staff Writer
Soon after Mike Stiglitz and Ben Muse, partners in the Two Stones Pub franchises in Newark and Wilmington, began to lay down plans to establish their third location in the Shoppes of Longwood Village a few months ago, they were approached by Mary Hutchins, executive director of Historic Kennett Square.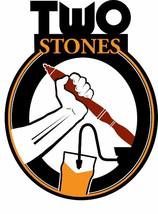 Knowing that Two Stones was several weeks away from turning the key to a new location, Hutchins invited Stiglitz and Muse to volunteer with their staff at the Kennett Brew Fest on Oct. 5. For nearly six hours, Stiglitz and Muse helped fix the taps for businesses that would soon become their competitors. They shook hands, met new people, and very soon, the newest link to the growing line of brew pubs in Kennett Square were welcomed to the neighborhood by 4,000 connoisseurs of hand-crafted brew.
"People kept coming up to us, saying how happy they were that we were coming to the area," Stiglitz said. "This town was already receptive to Two Stones, and we hadn't even opened yet."
They're about to. Scheduled to welcome its first customers in late October-early November, the Two Stones Pub will bring the same culinary and craft beer confluence of tastes and atmosphere it has already created in Newark and Wilmington, and for anyone who has already visited their first two locations, they're going to see a bit of that Delaware magic all rolled into the new restaurant.
"If you look at the design of this place, it' very close to the feel we have in Newark, which is a very neighborhood feel, with a little touch of the industrial, warehouse feel we have in Wilmington," Muse said, motioning around the soon-to-be-completed interior. "They're going to find the best of both worlds here."
It won't be just the décor that will be reminiscent of what has come before the Kennett Square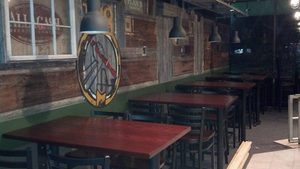 location. Guests to the newest Two Stones restaurant will also enjoy constantly rotating taps that serve the best craft beer in the country, as well as over 100 bottled beers. The Two Stones menu, designed by Chris Meyer, the executive chef at the Wilmington Two Stones, and Andrew Matulaitis, formerly of the Stone Balloon in Newark, will feature the best in pub food, as well as tantalizing entrees like yellowfin tuna, pan-seared Norwegian salmon and jumbo shrimp primavera.
"We bring in the kegs, we keep them cold, we pour the beer in the glass, and we hand it to the customer, but other than having a friendly, educated server, there's nothing else we need to do with the beer," Stiglitz said. "The food is where all of the love comes from, and that's what has made us successful. Our goal with our food has always been to 'wow' everyone."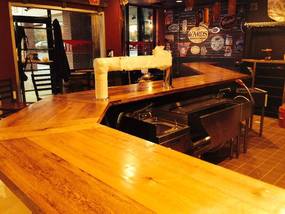 As any beer lover will attest, the Kennett Square area has already earned a reputation as a great craft beer town, as witnessed by the success of the Half Moon, Giordano's, and the soon-to-be-included Kennett Brewing Company and the Victory brew pub location. The addition of Two Stones nearby, Muse said, is not intended to pull customers away from other gastro pubs of its kind, but to strengthen the numbers of an already growing trend.
"You look at a great beer city like Philadelphia," he said. "It did not become a great beer city because there's one beer pub there. There's hundreds. With the Half Moon, the Kennett Brewing Company, and with Victory coming to town next year, as well as the annual attraction of the Kennett Brew Fest, it makes Kennett Square a desirable place for us to be."
Weeks before opening, Stiglitz took an admiring look around a still-unfinished restaurant of brand new booths, sparkling beer taps, a front bar top made of 200-year-old wood from Chester County, and the finishing touches applied to walls decorated with vintage beer signage.
"I want our guests to feel like they are walking into a place that's already been here for ten years," he said. "I want them to realize that their ownership will give back to their community, that the are visiting friends who love to care of them."
Two Stones Pub is located in the Shoppes of Longwood Village, 843 E. Baltimore Pike in Kennett Square.