Seventh heaven
10/31/2013 12:50PM ● By Acl
The Oxford Hornets won their seventh game of the season last Friday night.
By Steven Hoffman
Staff Writer
At the start of the 2013 football season, Mike Pietlock said, everyone expected West Chester Rustin and Unionville to be battling for supremacy in the Ches-Mont League. As the calendar now flips to November, Rustin stands at 9-0 and Unionville is 7-2 after posting a 21-7 win over Great Valley. What folks might not have expected is for Pietlock's Hornets to be 7-2 after nine games. Oxford picked up the seventh win of the season with a dominating performance against Sun Valley and will now travel to play Unionville in a game that will have playoff implications. Oxford hasn't played a more meaningful game in decades.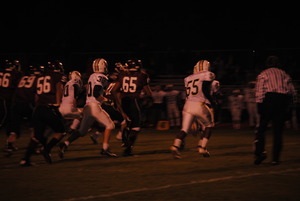 The Hornets did exactly what they needed to do against a depleted Sun Valley squad that entered the game with a 2-6 record. Oxford's high-powered offense was in attack mode from the opening play of the game. Quarterback Ethan Herb fired a 39-yard completion to Devon Sumner along the right sideline. Running back Musty Mahmud carried the ball on three successive plays covering 21 yards for Oxford's first score. It was the first of three touchdowns that Mahmud would score.
On Oxford's next drive, Herb connected with wide receiver Ryan Hubley on a beautiful 30-yard scoring strike across the middle of the field. It was 14-0 and the Hornets were moving the ball effortlessly.
Sun Valley's only score came on a 15-second lapse by the Hornets. Kick returner Kijana Gordon took the ensuing kickoff 81 yards for a touchdown.
But it soon became apparent that Oxford's backfield tandem of Mahmud and Zach Deasey were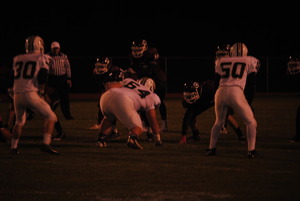 nearly unstoppable on this night. Deasey had three carries of more than 30 yards and finished with 149 yards for the game. Mahmud ran for 163 yards. By the time he scored his second touchdown, the Hornets had a 21-7 lead. Hubley then caught his second touchdown of the game to make it 28-7 after two quarters.
Oxford continued to roll on offense in the third when Herb threw a 23-yard touchdown to wide receiver Cameron Williams. Then Mahmud raced in for a 53-yard score to make it 42-7.
Oxford then sent the second team offense into the game. The Hornets capitalized on a Sun Valley turnover and Josh Mosley scored on an eight-yard carry. Later, Joey Lopez bolted 65 yards to cap the scoring at 56-7. It was certainly one of Oxford's most dominating performances in a long time.
Oxford posted a lot of eye-opening numbers against Sun Valley: 56 points, 484 rushing yards, and more than 600 total yards. But the most significant number was undoubtedly seven. Oxford clinched its first winning season in more than two decades with a victory over Avon Grove last week, but it has been even longer since an Oxford team won seven games.
"We played well in all phases of the game," Pietlock said. "When you can run the ball like we were able to tonight, you can do what you want on offense."
Deasey credited Oxford's strong offensive line with opening up holes for the running backs.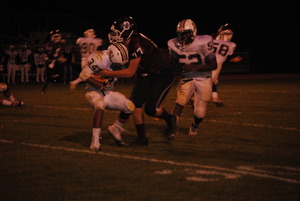 Pietlock said that Oxford has simplified the game plan a little bit on offense to focus on what they do well. Having the combination of Mahmud and Deasey in the backfield together at the same time has worked out well.
"They complement each other very well," Pietlock said, adding that either runner can be effective running inside or bouncing to the outside.
Deasey and Mahmud both said that they were confident heading into the final game of the regular season. Oxford will travel to Unionville for the 7 p.m. game on Friday. A playoff berth could be at stake depending on how the final points standings in the Ches-Mont League shake out.
"We don't know how the points will work out, but we do know that we have to win so that's what we're focusing on," Pietlock said.
The Oxford coach added that there aren't any shortcuts or tricks to beating Unionville; instead, the Hornets will have to focus on the basics. "We need to have a good balance between the run and the pass. Unionville is going to do some different things. We have to win the turnover battle and we have to block and tackle," he said.
Pietlock said that he hopes the Oxford faithful will show their support for the team by traveling to Unionville for the showdown on Friday night.
"Our fans travel," he said. "They have really come out to support us for the four years that I've been here. You can hear them. We really appreciate that."
While the home crowd was delighted by the 56-7 win, the players were already focused on the next game.
"We're just focused on Unionville," Mahmud said. "That's all that matters."
***
Oxford 14 14 14 14—56
Sun Valley 7 0 0 0—7