Avon Grove volleyball improves to 9-3
10/16/2013 03:38PM ● By Acl
The Avon Grove team discusses pre-game strategy against Oxford last Thursday.
By Steven Hoffman
Staff Writer
The Avon Grove volleyball team improved to 9-3 and bolstered its playoff chances with a hard-fought win over Oxford on Oct. 10.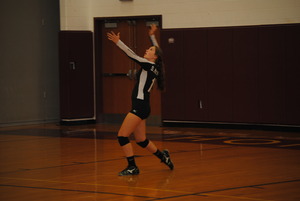 Even though Avon Grove managed to pull out the victory in straight sets—25-20, 25-22, and 25-17—Oxford was competitive throughout. In fact, for most of the game, it was hard to distinguish which team entered the day with an 8-3 record and which one had a 3-8 record.
"It was an exciting game," Oxford coach Jack Lindsey said. "They hung in there."
The first set was very evenly matched. With Kelsey Wetzel serving, Oxford scored two straight points and held an 11-9 edge—the first time that either team was up by two. Avon Grove's Jane McCan halted the Hornets' momentum and then Eleanor Schultz took her turn to serve for the Red Devils. Schultz's deep serves and her teammates' good play at the net helped Avon Grove reclaim the lead, 15-11.
Oxford standout Kelly Bolton helped the Hornets rally and she was serving when they knotted the first set at 18-18.
Avon Grove surged to win seven of the next nine points thanks in part to back-to-back good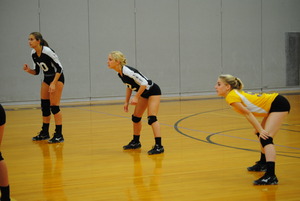 plays by Julia Crabtree. She was also serving when Avon Grove closed out the first set.
Avon Grove jumped out to an 8-4 lead in the second set, but rallied after a kill by Bolton. Jen Coleman made several nice plays as the Hornets tied the score, capitalizing on good passing and plays up front by Melanie Kempf, Coleman, and Wetzel. With Wetzel serving, Oxford took a 19-14 lead.
The Hornets were on the brink of taking the second set when Avon Grove rallied. Heather Brown helped Avon Grove control play at the net and demonstrated a deft touch by finding open space to score points for her team. They surged past Oxford, winning seven of eight points to take the second set, 25-22.
Avon Grove had an easier time of it in the third set, winning 25-17.
Even though he wasn't satisfied with the final result, Lindsey saw plenty to like about the effort against Avon Grove. Mariah Jardine posted 21 digs for Oxford. Coleman, a junior, had six kills for the Hornets. And Bolton turned in another excellent effort.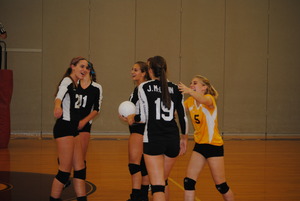 The Hornets faced an uphill battle against Avon Grove with one key player, Andrea Longacre, returning to action following a concussion, and another leader of the team, Jenna Krivansky, on the bench after suffering a season-ending injury. Lindsey, who is in his first year as the coach of the Hornets, said that the team's seniors—Bolton, Heather Homola, Jardine, Melanie Kempf, Krivansky, Longacre, Heather McComsey, and Wetzel—have all been playing together for six years and form a strong nucleus. He noted that without any exceptionally tall players to position at net, the Hornets will win or lose depending on how well they play together as a team.
Fortunately, the Hornets have great chemistry, in part because of the experience they have playing together.
"They are an upbeat group of kids," Lindsey said. "They are always positive when they go into the huddle."
Lindsey added that assistant coach Niki Kelley makes a real contribution to the program and has helped the Hornets' players develop.
Avon Grove, meanwhile, has been one of the most impressive teams in the Ches-Mont League this season.
Avon Grove head coach Marouane Jafir, who is in his second year helming the squad, said that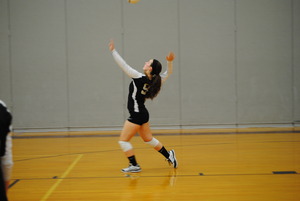 after playing in a tournament the previous weekend and two games earlier in the week, he was worried that his team wouldn't be as sharp as they have been for most of the season. Even though that turned out to be the case, Avon Grove was able to hold off Oxford.
"We didn't play to our potential today," Jafir said. "But our team pulled it together."
Jafir said that his team is usually able to do a better job of serving toward the sides rather than toward the middle. Oxford was able to capitalize on some of the serves toward the middle.
Strong play by Sarah McCan, Jane McCan, Brown, and Crabtree helped Avon Grove get the job done.
"They did a fantastic job," Jafir said.
Crabtree is only a freshman, but she has quickly developed into an important performer for Avon Grove.
"She works very hard," her coach said. "She's disciplined. I'm giving her a chance to play a lot of minutes and she's getting a lot of experience. I'm expecting her to be an excellent volleyball player."