Avon Grove's homecoming brings out spirit and community
10/09/2013 03:36PM ● By Acl
The Avon Grove flag unit was front and center during the homecoming parade.
By Richard L. Gaw
Staff Writer
Given the unseasonal heat that blanketed West Grove last Saturday, Avon Grove High School Principal Tom Alexander delivered his remarks without a sports jacket for the first time in his nine years of attending homecoming events at the school.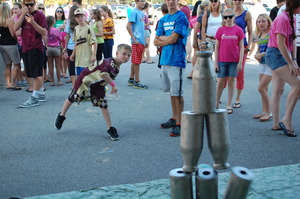 With retiring Avon Grove School District Superintendent Gus Massero at his side and an ocean of cheerleaders, students, band members, parents and football fans in front of him, Alexander declared this homecoming the finest he's seen in his time at Avon Grove. For nearly six hours before the kick-off of the football game between Avon Grove and West Chester East, Avon Grove High School was resplendent with enthusiasm, extending from the school parking lot to State Road.  The annual Red Devil 5K kicked off the day's festivities at 8:30 a.m., which was followed by a booth bazaar that  gave several school groups and organizations the opportunity to sell food, drinks, games and prizes, with the proceeds being donated to several causes.
Headed by grand marshal Massero, the homecoming parade wove its way from the Avon Grove Charter School up State Road to the high school, with the Avon Grove Marching Band leading the way and followed by wildly-decorated theme floats created by several of the school's sports teams and groups.
After his opening remarks, Alexander introduced Massero, who praised not only the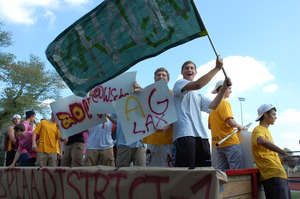 homecoming events but the academic achievement of the high school, which among many academic honors recently earned national recognition in a U.S. News and World Report study of the nation's best high schools.
Following Massero's address, Seniors Megan Pappa and Joe Wheeler were named as Homecoming King and Queen; the Junior class was named as the recipient's this year's Spirit Award; and the Golden Chorale sang the school's Alma Mater, accompanied by the marching band.