Perfect weather draws a crowd to Unionville Community Fair
10/09/2013 03:04PM ● By Acl
By John Chambless
Staff Writer
With sunny skies and summer-like temperatures all weekend, the 89th annual Unionville Community Fair drew thousands of visitors from Oct. 4 to 6.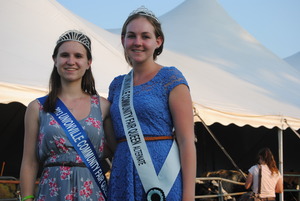 Fair president Jayne Shea, who is stepping down after seven years at the helm of the huge event, said the warm weather brought out the crowds and kept them at the fair later each evening. "It's the first time in years we've had three beautiful days," she said during an interview on Tuesday after the fair ended. "It was almost too warm, but nobody was complaining about that."
Saturday is always the biggest day for attendance, she said, and the Willowdale Pro Rodeo on Saturday night was packed.
"I was way up in the announcer's stand," Shea said. "I was looking for empty seats for people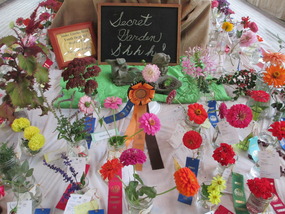 who were texting me. I was guiding them from above. We were a little bit worried because it was the evening of the homecoming dance at Unionville, but what people did was take pictures of their kids, drop them off at the dance and then they got to the rodeo. That explains why, 15 to 20 minutes into the show, people were still trickling in. But it was a very good event, and it got rave reviews. As far as ticket sales, we exceeded what we sold last year. Each year, it becomes more popular."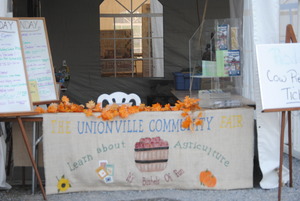 The agricultural exhibits in the Red Barn are always a favorite, and Shea said this year was no exception. "People who are new to the fair just rave about it," she said. "We had a new evaluator from the state Department of Agriculture. They come every year and make suggestions about how to improve the fair. She was someone whose parents had been evaluators years ago, when the fair was at the high school. Her mother came with her, and she was absolutely floored about how great it was in the barn, compared to when we were in the gym at the school. And we did very well on our evaluation, by the way."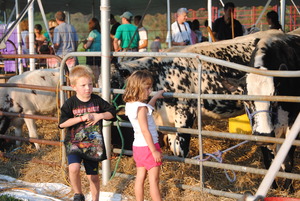 A popular tradition of the Unionville Community Fair is the selection of the Fair Queen. This year, Catherine Stookey earned that honor, with Jackie Choffo serving as the Unionville Community Fair Queen alternate.
Stepping aside as president doesn't mean that Shea is abandoning the fair, which has been a part of her family for years.
"I'll still be involved next year," she said. "I won't be the president anymore, but I still love the fair so much. We wanted this to be a good transition period. We don't have anyone lined up as president yet, but we'll be working on that in the next month. The job seems daunting, but when I took over seven years ago, it was much worse than it is now.
"The fair is much larger now, but we also have policies and procedures in place that we didn't have before. It won't be as hard for the new president."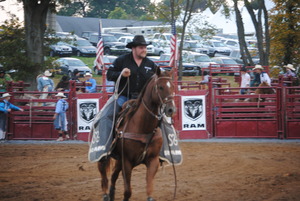 The $5 parking fee instituted this year proved to be no big deal for visitors, Shea said.
"I have a young man who's run the parking for the last three years, and he said that it went much more smoothly than when we were asking for a donation," she said. "People accepted it, they were pleasant about it. He said he had no complaints whatsoever. Even our volunteers were willing to pay for parking."
More volunteers are always needed to help run the fair, Shea said.
"We were down to three key guys last year, and this year, sadly, we were down to one, which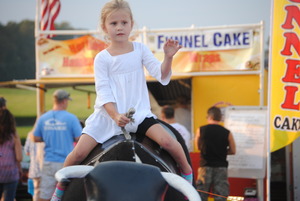 happened to be my husband," she said, laughing. "He knew what needed to be done. But it's a big property. Just getting from one side to the other if something goes wrong is time-consuming.
"For instance, at 6:35, he and I were up in the announcer's scaffolding at the rodeo. All of the lights went out, and some of the speakers. He went flying up the hill to flip a breaker switch. That's a long run for a really tired man," Shea said with a chuckle. "That's the kind of thing where it would be nice to have somebody else to handle things. Afterward, we just laughed about it. He got everything back on in five minutes, and the crowd didn't even notice because it was still light out. But it's at times like that you realize it would be awesome to have other guys around who knew what to do."
Attendance was very good this year, Shea said. "It's always difficult to gauge attendance because we don't charge admission, but it was crowded -- especially Saturday and Sunday. It was wonderful to see."