Local chapter of national organization gives moms a network of holistic connectivity
10/09/2013 02:34PM ● By Acl
By Richard L. Gaw
Staff Writer
When Catherine Kegley of New Garden Township was pregnant with her son Henry four years ago, she was interested in pursuing natural childbirth and breastfeeding her son the way that her mother did with her as an infant in Charlottesville, Va. The problem was, there weren't a lot of other mothers she knew in the area who had chosen -- or were about to choose -- that same path. At the time, her husband's best friend from college was the national volunteer coordinator of the organization known as the Holistic Moms Network -- a community with 10,000 members nationwide -- and told her that there was a local chapter about to begin in the Kennett Square area.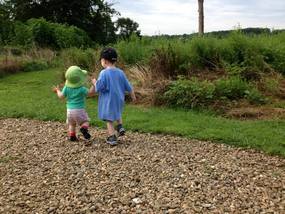 "I attended out of curiosity, but because Henry was a newborn, I wasn't able to attend a lot of meetings, and by the time he was a few months old and I was able to get out of the house more, the chapter had dissolved," Kegley said. Soon after, still seeking a community of like-minded parents, she decided to start the Southern Chester County chapter of the network. Over the past three years, parents have joined to share and learn in monthly meetings.
With more than 150 chapters in nearly every state in the nation, the Holistic Moms Network connects people, creates supportive communities, and helps parents learn about holistic and green living. The network is dedicated to facilitating grassroots community-building, offering parents the opportunity to create local chapters where they can connect and find friendship and resources necessary for successful parenting. Members have discovered natural remedies for their child's asthma and fever, found the courage to have a vaginal birth after a cesarean, become educated about vaccination choice, and learned homemade, non-toxic recipes for household items like cleaners.
Although the Southern Chester County chapter may take its cue from the national organization,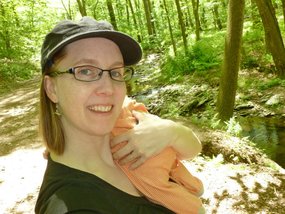 its long list of past speakers has enabled Kegley and the group's dozen members to fashion their own definition. Within the last three years, the local chapter has offered workshops on organic gardening, an introduction to Reiki, beekeeping at home, meditation, yoga, power affirmations, food allergies, free trade coffee, homeopathy, medicinal herbs, children's sleep patterns, space organization, dentistry for children, as well as sponsored numerous nature walks. This year, the Southern Chester County chapter was a community partner with the New Garden Growers' Market and provided an information desk at several of the markets.
"We try to balance the curriculum between nature and environment, personal and spiritual growth, as well as health and parenting," Kegley said. "Right now, for instance, we're working on having a workshop that will invite a teenager who several years ago at the age of 9 became a vegetarian in a family of meat-eaters. We also want to have a panel discussion on school choices in the area, and have talks about fostering our own personal creativity."
Colleen Rasmussen, the mother of two small children who lives with her family just outside of Coatesville, said she stumbled across the Holistic Moms Network by reading an article about the actress Mayim Bialick, who was a former celebrity spokesperson for the network.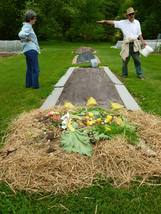 "I was looking to do better for my kids, such as looking for ways to treat their health without running to Tylenol and Advil," she said. "I felt like an alien around some of my neighbors and family. When I would tell them, 'No thank you, my son doesn't need that lollipop because it contains red dye,' I was looked on like I was some kind of monster, when in fact, he does have a sensitivity.
"I didn't want to be afraid if they had fevers," Rasmussen said. "I wanted to learn more about nutrition, so even though I didn't type the term 'holistic' into my web search, the whole paradigm of what I was searching for was lit up when I found the Holistic Moms Network."
One particular workshop she attended, "Is Your Dentist Protecting Your Health," taught Rasmussen about the dangers of too much fluoride, as well as safe levels of mercury and its effect on the oral health of her children. Kegley attended a workshop on homeopathy taught by Dr. Peter Prociuk, and now, it's a regular part of her parenting.
"I went into that meeting knowing practically nothing about homeopathy, and now I have a whole library of homeopathic medicines in my cabinet at home," she said.
The demographics of the local network vary from meeting to meeting, but up to this point they have essentially drawn mothers of children ranging from infancy to preschool age, although Kegley says that with their new weekday evening time slot for meetings, they are hoping to draw more parents of older children. Yearly memberships for individuals and families begin at $45, which not only provides invitations to all chapter workshops and events, but also membership in a highly active national online member community, a digital subscription to a quarterly holistic parenting magazine, and special offers from national sponsors. Moms, dads, future parents, grandparents and caregivers of children of all ages are encouraged to attend a meeting at no charge to see if membership is right for them.
When she was a little girl, Kegley often played with her brothers in the backyard at the family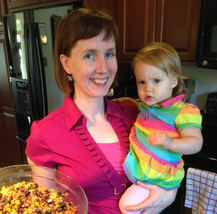 home in Virginia, looking for four-leaf clovers and playing in a nearby stream, and when she wasn't there, she went with her father to the nearby farm where he grew up, or on nature hikes. Because both of her parents were scientists, Kegley learned that not only was nature fun, but that its future depended on whether its delicate balance with humans could help it prosper. Now a parent to both Henry and his 18-month-old sister Ruthie, Kegley is intent on passing along to them what her parents gave her, and joins with others in the local chapter who are looking to do the same.
"We are a very welcoming, non-judgmental group, and our members reflect a wide variety of beliefs and parenting practices," Kegley said. "We have some who breastfeed and some who don't, some who cloth diaper and some who don't, some of whom have extensive vegetable gardens and some who have never put their hands in the dirt.
"Despite our different ways of raising our children, however, I think what we have in common is a desire to be mindful parents, whether that be for our family's health, being environmentally aware, or by the way we discipline and raise our children," she said. "There are varying degrees of satisfaction and dissatisfaction that draws members to join, but very often, they come because they feel very alone in what they want for their families, and the network gives them validation for believing in what they feel."
To know more about the organization, visit www.holisticmoms.org. To become a part of the Southern Chester County chapter, e-mail [email protected].

Upcoming Holistic Moms Network Workshops
Intro to Homeopathy
Oct. 16, from 7 to 9 p.m.
Dr. Peter Prociuk, a licensed physician, will explain how parents can use homeopathy to help families heal from illnesses and stay well.
The Sustainable Home Landscape
Nov. 20, from 7 to 9 p.m.
The chapter will invite local landscape architect Margot Taylor to discuss the idea of developing home landscapes that use resources wisely and support one's well-being.
Eco Friendly Wrapping
Dec. 18, from 7 to 9 p.m.
Join the network chapter for a holiday and group discussion about eco-conscious ways to present holiday gifts, and how to involve kids in the process.
All events will be held at the Soulful Cricket, 140 Thompson Rd., Kennett Square. Meetings are free and open to the public. To register, e-mail [email protected].