Major Louis Guillermin gets a hero's welcome in Oxford
10/09/2013 01:34PM ● By Acl
Veterans lined the sidewalk leading up to the funeral home.
By John Chambless
Staff Writer
American flags lined three blocks of downtown Oxford on Oct. 4, welcoming home a long-lost soldier.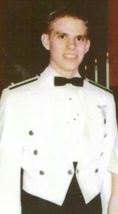 Louis Guillermin grew up in West Chester, graduated from West Chester High School and West Chester University, enlisted in the Air Force and was serving as a flight navigator on April 30, 1968, when his plane went down over Laos. Guillermin and the pilot, Lt. Col. Robert Pietsch, were listed as missing. Their last known location was about 10 minutes east of the city of Ban Muong.
Eleven months before his death at the age of 25, Guillermin had married his sweetheart, Donna. After that day in April 1968, she was left to grieve, to gradually accept the fact that her husband was not coming home, and to be reminded of his absence for 45 years. She remarried, and is now Donna Stoyko, a grandmother living in Spokane, Wash. On Oct. 4, though, she accompanied her first husband's remains to the Edward Collins Funeral Home in Oxford, surrounded by American flags, salutes and the embrace of a whole community.
Because he died so young, Louis Guillermin's only surviving family members are five first cousins, who live in the Oxford area. They were tested for a DNA match with Guillermin's remains after his crash site was finally located on May 28, 2013.
On the morning of Oct. 4, a flag-draped coffin was flown from Honolulu Airport to Philadelphia. Stoyko was flown from Washington to accompany the procession to the funeral home in Oxford. Arriving in Oxford in a white van behind the hearse, she was surrounded by dozens of riders from the Warriors Watch motorcycle club and several Vietnam veterans clubs, along with Oxford police cars.
Along the sidewalks surrounding the funeral home, neighbors stood with flags and homemade signs as the procession arrived. Once the rumbling motorcycles were stopped, there was silence as a group of riders lined up behind the hearse to remove Guillermin's casket and carry it into the funeral home. Cameras clicked and crews from two Philadelphia TV stations filmed the scene, but no one spoke as the coffin was slowly carried between two rows of banners and American flags held by onlookers.
Family members were given a few minutes alone with the casket in the funeral home parlor before Stoyko walked out to the porch and spoke quietly in the middle of a tight group of TV news cameras and reporters.
"It's overwhelming," she said. "It's been 45 years, and I've gone on with my life. I have three adult children and three granddaughters."
She recalled Guillermin as "a talented man, a very loving man. I remember his smile and his sense of humor. And his big, brown eyes," she added with a smile.
Stoyko knew Guillermin for two years and they were married for 11 months. Every year since his disappearance, she has gone through updates from the military -- each one turning up nothing, until this year.
"You never forget someone, so it's good to get closure," she said. "I hope people look at this as a celebration of life."
Guillermin was a Lieutenant when he was listed as missing, and was promoted to Major during his MIA status. The Louis Guillermin Vietnam Veterans Chapter 436 in Phoenixville was named in his honor.
"He didn't talk much about his service," Stoyko said quietly. "He didn't want to worry me. But he had great respect for what he was doing."
On Saturday, Oct. 5, there was a short funeral service at the Collins Funeral Home, and another escorted trip to Broomall, Pa., where Guillermin was laid to rest beside his parents in Glenwood Memorial Cemetery. A ceremony will be held at Arlington National Cemetery later this month.
In his memory, donations may be made to the Major Louis Guillermin Chester County Chapter 436 Vietnam Veterans of America, P.O. Box 189, Phoenixville, PA 19460. Online condolences may be made at www.elcollinsfuneralhome.com.