Kennett defeats Sun Valley on Rose's big night
10/03/2013 10:29PM ● By Acl
Blue Demon running back Brett Rose scored three touchdowns to lead Kennett to a 48-27 victory over Sun Valley.
By Richard L. Gaw
Staff Writer
A homecoming by any other name, at any other place, would have looked as pageantry-like as the one held at Kennett High School last Friday night. A Rose by any other name but Brett, however, and the Blue Demons would be heading into this Friday's game against cross-town rival Unionville with their season virtually in tatters. But thankfully, the Rose who wears Number 29 for Kennett did, in fact, bloom.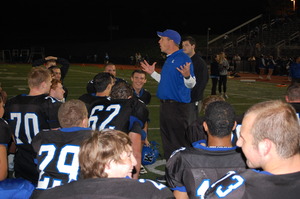 Rose's 128 rushing yards, four receptions and three touchdowns led Kennett to a 48-27 win over Sun Valley in a Ches-Mont American Division contest, as part of an evening splashed with homecoming festivities.
The Blue Demons hit the scoreboard early, when starting quarterback Nick Dunleavy engineered a possession that featured his 17-yard keeper, a 9-yard toss to Rose, and a touchdown pitch to fullback Liam Clarke from 6 yards out to give Kennett a 6-point lead with 7:40 left in the first quarter. After the Blue Demon defense held Sun Valley's offense to no gain on its first possession, Rose took a pitch from Dunleavy, shook off two blockers and scampered 25 yards with 5:36 left in the first to jump Kennett out to a 13-0 lead.
With time ticking away in the first, the one-two offensive arsenal of Sun Valley got the Vanguards on the board. Quarterback TJ Mancini orchestrated his teams' first touchdown with a 28-yard pass to receiver Nate Cusumano to get the ball to the 6-yard-line, and on the next play, he gave the ball to running back Kijana Gordon, who scampered cross field for the touchdown. Later, with 10:54 left in the half, Sun Valley tied the score at 13 when Mancini plunged one yard on a QB keeper.
With Jordan Jones at quarterback for Kennett and the ball on their own 40 with 10 minutes remaining in the half, Rose took the snap from Jones and ran 55 yards up the right sideline for his second TD of the night, giving Kennett a 20-13 lead. On Sun Valley's next possession, a leaping interception by Kennett defensive back Noah Turner gave the Blue Demons the ball on the Vanguard's 6-yard line, which was followed by a Jones TD strike to Rose in the corner of the end zone with 7:46 left in the half.
By the time the second half began, it was becoming evident to many that the game's outcome rested in the hands of both Rose and Gordon, who seemed to match each other not only in touchdowns but in dramatic plays. With 8:53 left in the third quarter, Gordon took a hand off from Mancini and bolted 43 yards to bring his team to within 6 points, 26-20.
With less than a minute remaining in the third, Clarke's 8-yard TD plunge up the middle was followed by Jones' two-point conversion to give Kennett a 34-20 lead. After a Gordon 6-yard run with 5:46 remaining in the fourth cut Kennett's lead to 34-27, Sun Valley found themselves with the ball on their 20 yard-line on their next possession. Although Mancini finished with 159 passing yards, he was hampered all night by a vaunting Kennett defense who intercepted him three times and sacked him twice, with no play more crucial than the sack administered by defensive lineman Lee Woodall that gave Sun Valley the ball on fourth down and 18 on its own 12 yard-line.
Kennett answered right back with a 6-yard carry by running back Damian Bennett with 3:03 left in the fourth, and a QB keeper by Jones with 2:10 left, for the game's final score.
"Good defense is the key to any victory," said Kennett Head Coach Scott Green. "A couple of those big defensive stops put us in a good position to score the ball. When we got an opportunity with the big play, then we took full advantage of these turnovers. That's something we really haven't done this year. It's really been one side doing the work, so it's nice to see the two coming together tonight."
For Sun Valley (2-3), he defeat was the team's third in a row. The Vanguards will host Octorara on Oct. 4, while Kennett, now 2-3, will travel to 4-1 Unionville on Oct. 4.