Parade, bands and pageantry highlight Kennett Homecoming
10/03/2013 10:24PM ● By Acl
A boisterous crowd came out to cheer their Blue Demons on to victory.
By Richard L. Gaw
Staff Writer
From State Street to the newly lit football stadium at Kennett High School, the town of Kennett Square was awash in Blue Demon blue and white last Friday evening.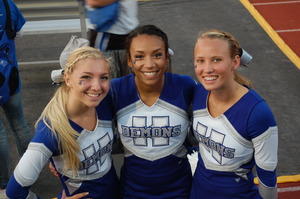 The varsity football game, which ended in a victory for the home team, served as the endpoint for a full agenda of Spirit Week activities, coordinated by the school's Student Council, highlighted by Blue/White Day, a pep rally and parade, and the crowning of the Homecoming King and Queen at halftime.
Assistant Vice Principal Ray Fernandez served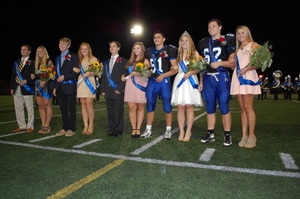 as the marshall of the homecoming parade, which began in the high school's parking lot, and wound its way up Broad Street, onto Mulberry and Union streets, and ended back at the high school. Parade participants included the Kennett Police, the school's marching band, Kennett Consolidated School District (KCSD) Superintendent Barry Tomasetti and the KCSD School Board, students from KCSD elementary and middle schools, and members of the high school, grouped beside their respective class floats.
In a tough competition, the senior class was awarded Best Float.
Following a superb, Egyptian-style halftime show by the Kennett High School Marching Band, Kyle Werner, a linebacker on the football team, and Katie Spence were named Homecoming King and Queen.
Kennett Homecoming- 2013 [5 Images]
Click Any Image To Expand