Antique car display draws hundreds of admirers
10/03/2013 06:29PM ● By Acl
Ella Gedge of Oxford, left, with her sisters Kate and Olivia, hop on a 1907 Mercedes Landaulet at the 2013 Auburn Heights Invitational Historic Auto Display on Sept. 25.
By Richard L. Gaw
Staff Writer
In his journal, 16-year-old Joseph Boxler of Kennett Square once wrote that working as a volunteer at the Marshall Steam Museum at Auburn Heights "was a chance of a lifetime." The young man had a passion for all things that have a motor, and he enjoyed listening to the older men like Tom Marshall, the patriarch of the museum, who would teach him about steam engines and the old railroads.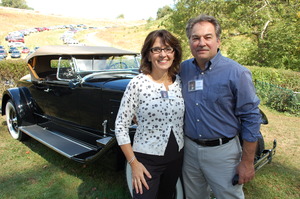 On Sept. 28, the Joseph Boxler Education Fund, named in honor of Boxler, who died in a car accident in 2007, served as the emotional backdrop to the 2013 Auburn Heights Invitational Historic Auto Display where, among the 21 vintage Packards and Buicks, the memory of the young boy was everywhere.
The Fund is administered by the Friends of Auburn Heights Preserve, and supports the Marshall Steam Museum's youth programming efforts. Since the beginning of the museum's youth education program in 2012, the fund has helped welcome 100 kindergartners from a nearby elementary school; provided 20 library outreach programs that encourage literacy and critical thinking skills; offered teacher workshops that highlight the museum's efforts to enhance its curriculum; added programs for small children that have included Steamin' Day activities, story times and an expanded Kid Zone; and added interactive outreach programs that take the museum into the community.
"Joseph loved mechanics, and he was very creative and industrious," said Dorothy Boxler, who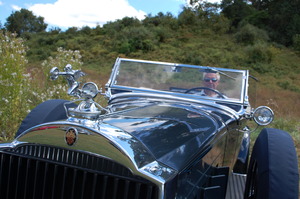 joined with her husband Dan to help promote the event's silent auction, whose proceeds were directed toward the foundation. "We came on a tour, and Ruth Marshall asked him if he would volunteer here. He was here for over a year. The foundation is now growing and moving, and it's teaching new generations of children about the same things that inspired Joseph."
The invitational, which debuted in 2012, featured a broad representation of high-end motor cars from the dawn of the automotive age through the late 1930s. The inventory included Packards from 1901, 1910, 1917, 1929, 1930 and 1937; a 1907 American Underslung Roadster, a 1918 Cadillac Type 57 7-Passenger Tourer, a 1931 Cadillac V-16 Cabriolet, a 1930 Cord L-29 Cabriolet, a 1907 Mercedes Landaulet, a1909 Mercedes Cabriolet, a1914 Pierce-Arrow Model 38, a 1927 Pierce-Arrow Model 80, a 1905 Reo Runabout, 1910 Reo R5 Tourer, a 1914 Rolls Royce Silver Ghost Alpine Tourer, a 1913 Stanley Model 78, a 1910 Thomas Flyer Model M, a 1909 White Model O, and a 1913 Buick Tourer.
"We not only want to introduce a lot of new people to Auburn Heights through this event, but it's also our key fundraiser of the year," said Auburn Heights executive director Susan Randolph, who added that the proceeds from the antique car show help fund the museum's children's education programs that introduce Auburn Heights to the community.
Randolph said that in addition to thanking long-time museum patriarch Tom Marshall for his work in establishing the show, she credited the Auburn Heights volunteer team, which has forged friendships with the antique car owners who participated in this year's show.
"Most of the cars that you see here don't show up in other car shows, and that's totally attributable to Tom and the guys he works with here," she said. "We enjoy the stories behind every car that comes here."