A Hornet Homecoming
09/25/2013 05:41PM ● By Acl
Oxford quarterback Ethan Herb prepares for last Friday's game against Kennett. Herb threw what would turn out to be the game-winning touchdown in the third quarter.
By Steven Hoffman
Staff Writer
Believe the buzz about the Hornets.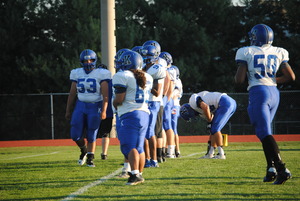 Oxford improved to 4-0 on the season by defeating Kennett, 13-9, in front of a large Homecoming crowd last Friday night.
When was the last time that Oxford started a season 4-0?
"It's been a long time," Oxford head coach Mike Pietlock said elatedly after the game.
Pietlock noted that when Oxford travels to Octorara next week, the team has a chance to take another step toward a winning season. That hasn't happened since 1997.
Oxford won with a defense that made big plays at critical times and an efficient offense that scored just enough to pick up a win.
Kennett struck first, taking advantage of an early miscue by Oxford. Hornets' punter Ryan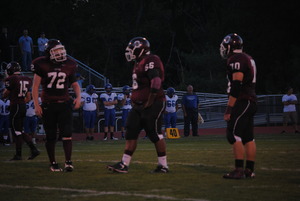 Hubley booted an excellent punt that pinned Kennett back inside the five, but a late flag on Oxford during the play forced Hubley to punt again. This time, Kennett got the ball on the 20 and they capitalized on the improved field position.
Quarterback Jordan Jones engineered a ten-play scoring drive for the Blue Demons. They almost scored a lot faster. After picking up a first down at their own 31, Jones found receiver Noah Turner open in the middle of the field and he raced 69 yards into the end zone only to have the touchdown called back because of a penalty. On the next play, Jones looked in the same location and found Brett Rose wide open. Rose picked up 44 yards to move the ball down to the 24. Five plays later, Jones ran into the end zone from 5 yards out to make it 6-0 with 3:42 left to play in the first.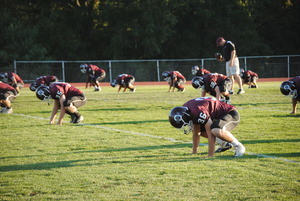 Oxford's Cameron Williams took the ensuing kickoff 45 yards to give the Hornets tremendous field position at the 25 of Kennett. Running back Musty Mahmud bolted right through the middle of Kennett's defense for 12 yards. Then Oxford quarterback Ethan Herb did a great job of eluding a tackler to throw a 9-yard completion to tight end Eric Bentz to set up a first down at the 3. Four plays later, Herb called his own number and ran in for the touchdown. Dylan Dunn's point-after kick was good so Oxford held a 7-6 lead with just 28 seconds left in the first quarter.
Kennett was able to move the ball at times—amassing more than 300 yards of total offense during the game—but getting the ball in the end zone proved to be a challenge. Jones put together a nice drive late in the second quarter. The drive showcased his running and passing skills. Kennett moved the ball deep into Oxford territory. On third-and-17 from the 22, Jones connected with Rose on a 15-yard pass play that set up a field goal by Rose.
"The thing that Jordan has," said Kennett Head Coach Scott Green, "is the dedication and determination to do well. He was battling cramps all night and he wasn't going to come out."
Kennett carried the 9-7 lead into halftime. The third quarter was largely a battle for field position with neither team able to move the ball into the red zone. Then, with Oxford facing a fourth-and-two from the 35 of Kennett, Herb made the play of the game by eluding defenders and throwing a 35-yard scoring strike to Hubley along the right sideline with 1:50 left to play in the third. Oxford went for a two-point conversion, but Herb's pass fell incomplete.
Kennett put together another good drive early in the fourth quarter, moving deep into Oxford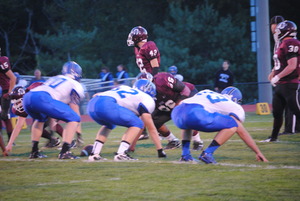 territory after Jones threw two passes to Turner. But a couple of ill-timed penalties on Kennett had them facing a fourth-and-long. Using the element of surprise, Kennett called on Rose to try a pass. He fired the ball into the end zone, but Oxford's Devon Sumner picked it off to end the threat.
"It's a play that we practiced," Green said. "We just didn't get the safety or the corner to bite on it this time."
Kennett would put together one more good drive, moving all the way to the 15 of Oxford with just over two minutes to play, but Oxford's defense held on fourth-and-long to give the ball back to Oxford's offense. They ran out the clock to secure the 13-9 win.
Pietlock credited his defense with rising to the occasion repeatedly against Kennett.
"Tonight was a team effort on defense," he said. "We haven't given up more than 10 points in a game this year and that gives you a chance to win."
Green had reasons to like what he saw from his Kennett squad even though they came up short on the scoreboard.
"The effort was outstanding. I am proud of the way that they played tonight," Green said. "We're in the middle of the season now and there are no moral victories. We're 1-3 and that's the reality of the situation. But I need them to know that we have something in this team. We believe we have something here. I believe in this team."
Green said that eliminating some mental mistakes could turn close losses into wins.
"We had some unfortunate, unnecessary penalties tonight," he said.
After blowing out Kennard-Dale 46-10 in the season-opener, Oxford has managed to win three straight close games—a testimonial to the team's experience and determination. Kennett, now 1-3, put up quite a battle.
"We made it interesting," Pietlock said moments after the game ended. "We needed this win. This was a team that we hadn't beaten in three years. It was gut-check time and we answered by holding that team scoreless in the second half."
***
Oxford 7 0 6 0--13
Kennett 6 3 0 0—9
***
Game notes: Oxford cornerback Connor Hilaman, a sophomore, made a nice play to intercept a pass in the first quarter. He returned the ball to midfield.
Kennett had a 69-yard pass play called back because of a clipping penalty midway through the first quarter. Despite the penalty, Kennett later scored on that same drive.
Oxford wide receiver Ryan Hubley made an excellent leaping grab for a 22-yard reception along the right sideline in the second quarter.
Jordan Jones connected with Sean Middleton on a nice 25-yard pass play in the second quarter. Jones completed 9 passes for 167 yards.
Kennett's Noah Turner made a beautiful catch in traffic for a 26-yard gain early in the fourth quarter.
Oxford's players were jubilant after the game and well aware of the importance of the 4-0 start. Despite Head Coach Mike Pietlock's protests to "save the Gatorade," for a win that is waiting down the road, Dylan Giffing, David McIntyre, and Josh Smith dumped the Gatorade on their coach.
Kennett will look to rebound by hosting Sun Valley in Week 5 action. This will be Kennett's Homecoming game.