The Art Spot
09/25/2013 02:12PM ● By Acl
The Longwood Art Gallery in Kennett Square presents a show by MaryAnn Weselyk and Jack Giangiulio ('Quiet Reflections,' shown above) from Oct. 4 to 27.
Sept. 26
Madeleine Kelly at Galer Estate
Galer Estate Vineyard and Winery (700 Folly Hill Rd., Kennett Square) hosts a show of paintings by local artist Madeleine Kelly on Sept. 26 from 5 to 9 p.m. Call 484-889-8013 or visitwww.galerestate.com.
Sept. 28
Victoria Wyeth at fundraiser
The Center for the Creative Arts (410 Upper Snuff Mill Row, Yorklyn, Del.) presents its annual fundraiser, "Luck of the Draw," on Sept. 28. Guests will enjoy food, wine, live music and mingling. At the door, they draw a playing card for the chance to take home one work of art (donated by local artists) from nearly 100 on display. Wyeth will randomly select cards from a deck. The person holding the matching card then has one minute to choose any work of art on the walls. Many of the works are worth well more than the ticket price of $85. Each ticket holder may also bring a non-participating guest for $15. For more information, call 302-239-2434, visit www.ccarts.org. Reservations are required and space is limited.
Oct. 4 to 27
Longwood Art Gallery
Longwood Art Gallery (200 E. State St., Kennett Square) is hosting a show for two of the gallery's most popular artists, MaryAnn Weselyk and Jack Giangiulio, during October. An artists reception will be held on Oct. 4 from 6 to 9 p.m. during the First Friday Art Stroll, with wine and cheese, light fare and live music.The exhibit runs through Oct. 27. For more information, call 610-444-0146 or visit www.longwoodartgallery.com.
Oct. 4
Folk art exhibit
The staff of Delaware State Parks and the Blue Ball Barn (1914 W. Park Drive, Wilmington, Del.) will hold an exhibit of Eunice LaFate's framed original art that she has developed over the last 20 years beginning Oct. 4. The opening will be part of the Wilmington Art Loop event from 5 to 8 p.m. The artist will also offer monthly Gallery Talks, during which she will discuss her career as a Delaware folk artist. LaFate is a native of Jamaica, and her work draws on the island's people, landscapes and culture. The Blue Ball Barn is the permanent home of the Delaware Folk Art Collection. More information is available at destateparks.com.

Oct. 4 to 26
Denise Dumont solo show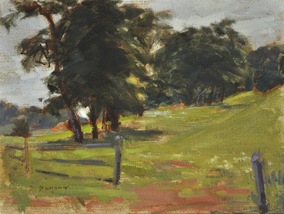 Station Gallery (3922 Kennett Pike, Greenville, Del.) presents "New Paintings: The Beach and the Brandywine Valley," by local artist Denise Dumont, from Oct. 4 to 26. There will be a reception with the artist on Oct. 4 from 5 to 8 p.m. This show includes plein-air paintings of the Delaware beaches, the Brandywine River, and landscapes in and around the region. Call 302-654-8638 or visitwww.stationgallery.net.
Through Sept. 30
'Artists of Winterthur'
The Oxford Arts Alliance (38 S. Third St., Oxford) presents "The Artists of Winterthur: A Collective Exhibition" through Sept. 30. The gallery is open Tuesday, Thursday and Friday from 9 a.m. to 2 p.m., and Saturday from 11 a.m. to 4 p.m. Call 610-467-0301 or visit www.oxfordart.org.
Through Sept. 28
Landscapes by Mary Pritchard
The Station Gallery (3922 Kennett Pike, Greenville, Del.) presents "Farmyards, Fields and Streams: Recent Pastel Landscapes" by Maryland artist Mary Pritchard, through Sept. 28. Call 302-654-8638 or visit www.stationgallery.net.
Through Nov. 17
Rockwell Kent and Jamie Wyeth
The Brandywine River Museum (Route 1, Chadds Ford) presents "Rockwell Kent, Jamie Wyeth and Monhegan" through Nov. 17. The exhibit features works by both artists that have been inspired by the small island off the coast of Maine. There are examples of Kent's major works from museum collections, as well as the debut of a new painting by Wyeth. For more information, visitwww.brandywinemuseum.org.

Through Jan. 5
''The Look of Love'
Winterthur Museum (Route 52, five miles south of Route 1) presents "The Look Of Love: Eye Miniatures from the Skier collection" through Jan. 5. Sometimes called lover's-eye jewelry, the history of these watercolors intricately dabbed on tiny pieces of ivory dates back to the late 18th century. According to lore, the trend began with a forbidden love affair between the young Prince of Wales and Maria Fitzherbert in 1784. The Prince secretly proposed marriage with a piece of jewelry containing a small portrait of his own eye and won her heart. Today it is believed only 1,000 pieces still exist, and this collection is considered to be the largest in the world. The intimate portraits are set into elaborately jeweled brooches, rings, lockets, pendants, small boxes, toothpick cases, and other tiny tokens of affection. Museum admission $18 for adults, $16 for students and seniors, $5 for ages 2 to 11. Museum hours are 10 a.m. to 5 p.m. Tuesday through Sunday. Call 800-448-3883 or visitwinterthur.org.