Unionville tennis team remains undefeated
09/18/2013 04:48PM ● By Acl
Senior Allie Lane is one of the players who have helped the Unionville Indians start the season at 9-0.
By Steven Hoffman
Staff Writer
When the Unionville Indians swept past Octorara on Sept. 13 to improve to 9-0 overall on the season, it was simply the case of the Indians doing what they do day in and day out, and year in and year out.
They win. They win because they work hard. They win because they are well-coached. They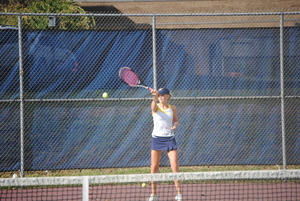 win because they are good and because they are consistent. And a lot of the time they win in pristine fashion, as they did against Octorara. Even without top singles player Zaina Zaki in the lineup for the day, Unionville powered their way to wins in all seven contests. Unionville is a perennial powerhouse in the Ches-Mont League and here they are midway through the briskly moving tennis season sitting atop the American Division with a 7-0 league record. There is a showdown looming with West Chester Henderson on Sept. 18. In the last few years, these two teams have battled for supremacy in the league. Last season, Unionville finished second in states under head coach Janet Johnston. The expectations for this season, as always, are lofty.
The Indians' formula for success in 2013 is familiar: It starts with sending out two of the top singles players in the area, Zaki and Allie Lane.
Whenever Johnston wants to teach her team a specific technique or illustrate a point, all she
has to do is have Zaki and Lane hit against each other.
"They are great role models," the coach said.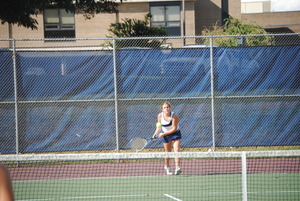 Lane, now a senior, has no problem helping the younger players just as the veterans helped her when she first started playing at the varsity level.
"There is some responsibility to act as a leader and to set an example," she said. "Our team is really close."
Playing at first singles against Octorara, Lane won in straight sets against Becca Graber. The Indians have come to expect this kind of win from Lane.
"She's undefeated," Johnston said. "Allie has had an outstanding season. She's only gotten more consistent and stronger. Her overall game has continued to get better. She has worked hard on her tennis for a long time."
Johnston explained that Lane is from a tennis family—her mother was an accomplished player and her older sister, Jackie, was a tremendous player for Unionville who helped carry on the Indians' tradition of excellence. Jackie is now playing for Swarthmore College.
Lane doesn't get by on talent alone. Johnston recalled one of Lane's matches that really made an impression. When Lane was a freshman, she was playing at third singles during one particular match against rival West Chester Henderson. She was so doggedly determined not to lose that she played with blistered and bloodied feet. There was no quit because Lane knew how important the match was to the team.
Lane is typical of a lot of the Indians' players in that she is a well-rounded athlete. She ran track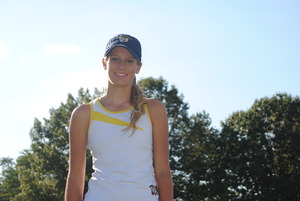 to improve her conditioning and was a member of the swim team, but now she's focusing exclusively on her tennis. The commitment that she demonstrates sets an example for younger players.
Getting solid contributions from young players is an important part of the blueprint for Unionville's success. Against Octorara, Sophie Wilks, a freshman, moved up to second singles and won handily. She has had an impressive season playing mostly at third singles.
"She will be a major contributor for the next four years," Johnston said. "She has all the technique. And she is coachable—she hears you when you try to teach her something."
The Unionville coach said that this characteristic is shared by the entire 2013 team.
"They are all very receptive," she said. "Everybody learns during the season but it is so fast and furious. They are all great kids and fair competitors."
Allie Malone, a sophomore stepped up to third singles against Octorara and played well, winning in straight sets. Johnston described Malone as an athletic player who has a background in lacrosse. Her athleticism alone makes her a valuable part of the team, and she will only improve with more experience.
Certainly one of the team's strengths is its depth. Johnston can take a versatile player like Amy Egington, a standout at doubles play, and pair her with her several different partners depending on the situation. Elise Egington, Victoria Soltysiak, and Kaitlyn Russell are just a few of the talented players who make contributions as doubles players. With four doubles contests in each match, teams can't win without solid contributions from doubles teams, no matter how good their singles players are.
"I think the strength of our team starts at the top with the singles players, but we're blessed to be able to spread out our strengths," Johnston said. "Everybody has to fit into a role. You need somebody to win on doubles. It's important."
As the rest of the 2013 season unfolds, one of the most interesting things to watch will be the continuing development of Zaki as one of the elite players in the entire state. The sensational senior has been dominant in the Ches-Mont League since her freshman year.
"She is the linchpin," Johnston said. "She has played first singles for us all four years. She was third in the state last year on a team that was second in states. She has an excellent work ethic. And she's such an athlete that she could succeed at any sport. I know that she's driven to be on that podium at states this year."
When Zaki's playing days with Unionville are over, she could be moving on to play Division I at the collegiate level.
"She's looking at several colleges," Johnston said. "She'll be a contributor wherever she goes."
Until then, there's work to be done for Zaki and the Indians. The 9-0 start is nice, but the team isn't satisfied with that. They have their sights set high and the tennis season moves quickly. There are big matches coming up against Downingtown East and West Chester Henderson.
"The whole team is looking forward to that," Lane said.